The Monitor Monitor participates in the Amazon Affiliates program and may receive a small percentage of a sale at no extra cost to you when you click some links on our site
The BenQ XL2411Z is one of the best 144Hz gaming monitors in the market since it offers great features and good looks for a very affordable price. This 3D monitor provides a 1080p native resolution, and a 1ms response time so you won't be bothered by image lag or ghosting during your gaming experience.
Through its simple design, the monitor has some kind of stylishness: all the finishes are plain black, which makes it look sober, the base is pretty solid, it has a telescopic arm attached to the base of the screen, and you can adjust it left or right with a built-in swivel. The border of the screen is thin, with the BenQ logo at the bottom left, and the functions buttons on the bottom right. The screen has a tilt-and-turn feature so you can tilt or change the display to portrait in case you need it.
Now, regarding the internal features of the monitor you should know that it's possible to adjust every aspect of the picture quality, so today we're going to tell you what's the ideal profile for this monitor. One of those aspects is the ICC profiles, (which stand for International Color Consortium). Those files were created by printing labs or manufacturers of printers so we could see how all images will look like when printed on different materials or surfaces, such as metal, canvas, paper, etc. So the ICC profile is a very powerful tool for people working with color management; a profile is basically a mapping from a color space to the PCS, and from the PCS to the color space.
The ICC has created a color management system that would function transparently across all operating systems and software packages. These systems also define the format accurately but do not define algorithms or processing details: the profile might do this using tables of color values to be interpolated (separate tables will be needed for the conversion in each direction).
Therefore, it is possible to find variations or versions between different applications and systems that work with ICC profiles. While there are many differences between ICC profiles in v2 and v4, the most crucial improvements in v4 are the removal of ambiguities coded into v2. Therefore, the ICC recommends using v4 profiles but continues supporting v2.
BenQ XL2411Z ICC Profiles – the difference between ICC Profile v2 and v4
Introduced in 1994 and 2001, respectively, the ICC Profiles v2 and v4 are some of the most popular around. Moreover, Version 4 was published under the ISO 15076-1 standard, introducing multiple modifications to its v4.
For the most part, updates focused on getting rid of some of the ambiguities in the v2 specification, thus giving up a better definition of PCS. That would allow enhanced predictability in terms of profile performance while keeping interpretation errors to a minimum. Moreover, these were the most important modifications from v2 to v4:
Clearer procedure for displaying profiles.

Prevention of invertibility issues vis-a-vis with new specifications for look-up table (LUT).

Colorimetry is always measurement-based, preventing preference adjustments.

Colorimetry must be measurement-based; no preference adjustments are allowed.

All non-D50 colorimetry needs to be adapted to D50 using the ICC Bradford transformation feature.

Definition of the standard PRM (Perceptual Reference Medium).

PCS is always D50 colorimetry, and v4 clarifies that non-D50 colorimetry shall be chromatically adapted to D50 by the ICC Bradford transformation.
How to manage ICC Profiles?
Now, the first thing you have to consider is that you can only get the best and most consistent results when you do the calibration of your monitor at the same time of the day in the same lighting.
To manage the ICC profiles, the BenQ Knowledge Center highly recommends downloading the relevant files from professional editors, like the Loxley Colour Printing Lab. Here, we show you how to find their ICC Profiles from the Loxley website:
You need to create an account at Loxley, then click on the Software & Support option, and from this menu options click on Colour Management

From these settings, choose the Print Profile Downloads option to check the detailed information on each printing medium.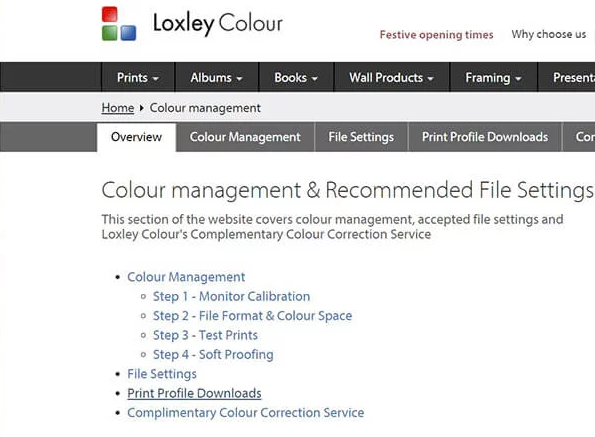 There, you'll find all of Loxley Colours printing mediums. Next to them, you'll find the name of the ICC Profile to download.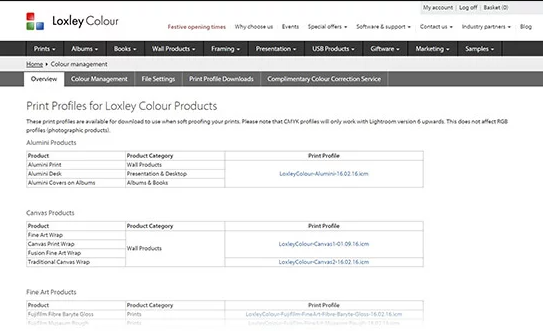 After downloading, you have to put them in the right place on your computer to allow the software (Lightroom, Photoshop) you use to find them.
You can also find that by clicking twice on the profile name. That will allow it to install correctly; although if that doesn't work, here's another way to find them:
Windows: C: > Windows > System32 > Spool > Drivers > Color
Mac: Macintosh HD > Library > Colorsync > Profiles
With these adjustments, you can run the process of soft proofing and make sure the profiles are active. Also, you can check the recommended monitor settings of TFTCentral, Display Lag, and Prad since they produce some of the most detailed monitor reviews on the Internet.
Step 1: Locate settings and profiles. Check

TFT Central's Database

first, and if have no luck go to

Display Lag

and

Prad

's reviews second. 

Step 2: Install the ICC profile first. Copy the downloaded file to

C:Windowssystem32spooldriverscolor

, then run colorcpl.exe to open the Color Management window (optionally, you can navigate to Color Management in the Control Panel).

Step 3: Click the "Use my settings for this device" check box.

Step 4: Click "Add…" and locate the relevant profile. If you don't see it select "Browse" and navigate to

C:Windowssystem32spooldriverscolo

r.

Step 5: Your new profile will appear in the window under "Profiles associated with this device". In case there's more than one, click the new profile, then click "Set as Default Profile".

Step 6: Click the "Advanced" tab, and you'll see the "Change system defaults…" option. Click on it.

Step 7: On this carbon-copy of the Color Management window, click the "Advanced" tab, and tick "Use Windows display calibration".

Step 8: Repeat the process on your other monitors if you're a multi-monitor user.

Step 9: Close the Color Management windows.

Step 10: Finally, modify each monitor's settings using their On-Screen Displays (OSD). Some can be unintuitive, so it is recommended to keep the manual on standby. If the panel's particularly advanced you may be able to create multiple profiles or presets and adjust power user settings that give you greater control over the picture. If you're not sure what a setting function is, just check the manual.
Set the best features with free tools & tests
The quality and properties of monitors can vary from one unit to the next in production runs, so you may find the recommended settings above are 'off', or maybe you just wish to tweak them to your personal preference. The easiest way to do this is to utilize a variety of online tests, and the "Calibrate display" tool in the "Advanced" tab of the Color Management application we were using above.
Online, the go-to location for any monitor tweaking is Lagom's suite of test images. There, you can calibrate Contrast, Sharpness, black levels, and many other aspects of your monitor's display. But what you won't find is a good motion test, which is particularly important for gamers using modern monitors equipped with motion blur, input delay, input lag, zero lag, and other similarly named modules that reduce blurring on fast-moving objects.
Some of these modules can quickly be turned on or off, but others, like BenQ's AMA, have a variety of modes. Using Blur Busters' Motion Tests and Prad's PixPerAn you can see the impact of these modules and determine which outcome you like best.
This is primarily a gaming monitor but it is also ideal for photo editing. The color consistency this 24-inch screen provides brings a high level of control and fluidity to a photography workflow. For example, suppose a photographer captures a particular scene and wants to reproduce it on a photo printer in the studio. In that case, ICC profiles should use the AdobeRGB color gamut to manage the colors.
A professional should then use that AdobeRGB color space and reproduce the colors with the camera's ICC Profile. The same goes for the photo editor for more consistency and enhanced colors.
Final Lines on BenQ XL2411Z ICC Profiles
We highly recommend getting professional monitors from BenQ America Corp., since it is a leading brand that innovates the visual display solutions market offering an extensive line of quality products for corporate, education, house of worship, gaming, and digital signage applications.
Originally under the "BenQ" brand name, which stands for the company slogan Bringing Enjoyment AND Quality to life, it continues to be involved in the areas of life that matter most to people – that have the greatest impact on the enjoyment and quality of LIFE today. Because they matter to people, they matter to the brand as well.
More Posts for You: