The Monitor Monitor participates in the Amazon Affiliates program and may receive a small percentage of a sale at no extra cost to you when you click some links on our site
This is a monitor that has almost all the must-have features of a good curved monitor. At the same time, it is not that expensive. As a result, we are here with a Samsung 24 inch curved monitor review. If you are thinking of getting this monitor, then you should keep reading the rest of this article.
If you want to dip your toes in the world of curved monitors, then you can start with one of the most popular 24 inch curved monitors of Samsung.
There are a lot of monitors from Samsung. But when it comes to a budget-friendly curved monitor, then the Samsung LC24F390FHNXZA should be on your top priority list.
So, let's get started with the Samsung 24 inch curved monitor review
Review of the Samsung LC24F390FHNXZA 24-inch Curved LED Gaming Monitor
Outlook & Design:
Frankly, this monitor comes with a very basic outlook. However, that doesn't mean that it is not that attractive. Rather, it has a very slim design. Matter of fact, the thickness of the monitor measures less than 0.5 inches. You can guess how thin and slim this monitor actually is!
On top of that, it has a glossy black finish. So, it will catch the eye of the visitors with ease. This one has 1800R curvature of the best immersive viewing experience for a 24 inch curved monitor. At the bottom, it has a circular shaped stand. This stand also gives it a modern look.
However, you can also remove the stand anytime you want to. Because the monitor also supports wall-mounting (VESA 75 x75). According to Samsung, they have designed the monitor inspired by the curve of the human eye. Thus, it will be easy on the eye while using the monitor.
The net dimension of the monitor is 21.56 x 3.44 x 12.84 inches without the stand. But with the stand, it measures 21.6 x 16.5 x 8.1 inches. You can see that it will not take a lot of space on the desk. And, it weighs only 7.30 lbs. The monitor has a tilt function.
For the record, the tilt range of this monitor is -2 to 22-degree. Now, unfortunately, the monitor stand doesn't support other types of flexibility like pivoting or adjusting the height of it. We know this is a drawback of the monitor. But for the price, we can't complain much about it.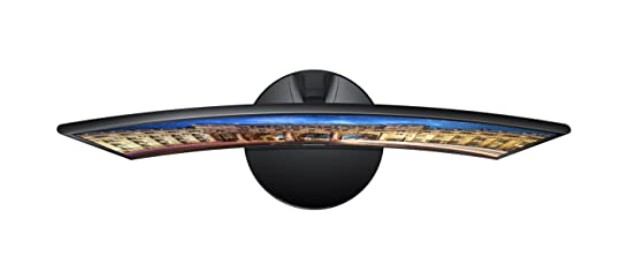 But lucky for you, the monitor supports 3rd-party monitor stands. So, if you want more customization in terms of the monitor position, you will be able to use a 3rd party monitor stand.
Another interesting thing to mention about this monitor is that it doesn't have anything (buttons, keys, switches) at the front of the monitor.
This particular design approach actually gives the monitor a very clean and clear look from the front. Samsung has put all the buttons on the back of the monitor. At the right side of the back of the monitor, there is the standalone 'Power' switch. It is very easy to reach the button from anywhere.
And, there is a joystick on the left-back side of the monitor. With the help of this, you will be able to navigate through the OSD menu very effortlessly. However, for many users, the inclusion of the power button and the joystick OSD button at the back of the monitor could be a hassle.
For the first few times, it might seem a bit complex. But you will be familiar with it very fast, we can assure you that. All the connectivity ports are at the back of the monitor as well. The overall design and outlook make it standout. And, you can easily use this monitor in a multi-monitor setup.
Performance of the Samsung LC24F390FHNXZA Monitor:
When it comes to the performance, then you can rely on this Samsung 24 inch curved monitor. In this section, we will talk about the overall performance of the Samsung LC24F390FHNXZA Monitor. So, here we go…
Image & Video Quality:
First, we will be discussing the video and image quality. As you know, this is a 24 inch curved monitor with 1800R curvatures, it will definitely give you an immersive experience. However, we must admit that a 24 inch monitor will not actually give you the best immersive experience. Because this is a small size screen for the curvature to work well.
Now, the monitor uses a VA panel with LCD technology. You know that VA panels are known for their vivid color and high contrast ratio. For instance, this monitor comes with a 3000:1 contrast ratio. That means it will deliver bright whites and deep blacks while operating.
In addition, it offers a wide viewing angle of up to 178-degree. That indicates that, if you move across the room, you will be able to see the colors accurately from any angle.
So, if you are playing a game with your friend offline, or you are showing your work to your college or boss from a different angle, or enjoying a movie with your family, there will be no issues in the viewing experience.
However, if you want to use this monitor for professional work like editing images or videos, it might not be the most suitable one. Because it comes with only 72% color gamut. However, for beginners, this could be a great pick.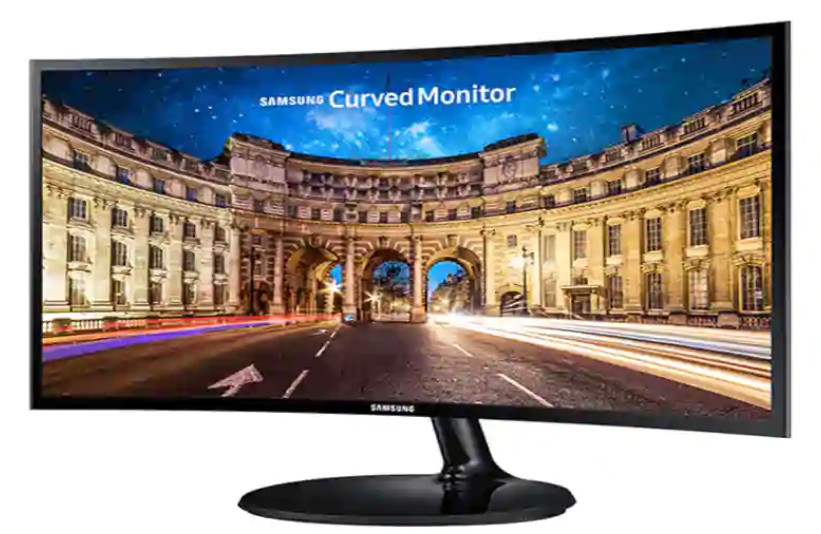 It is a monitor with a 60 Hz refresh rate. We know that 60 Hz is not a high refresh rate anymore. But for the price, this is justifiable. Another positive side of the monitor is that it has a response time of only 4ms.
This is very fast for a cheap monitor like this one. In that case, you will be able to enjoy gaming on your monitor better than ever.
The monitor comes with a 1920x 1080p screen resolution. That means it is a full HD monitor. And, in this day and age, for a 24 inch screen, this is a perfect resolution. In addition, it comes with a 16:9 aspect ratio. So, it will be compatible with all the movies, videos, and games without any problem at all.
Now, the brightness of a monitor is also another important factor in terms of performance. For your information, the monitor comes with a 250cd/m2 brightness.
We have to agree that it is a very average number. We would have been happy if it was 300 cd/m2. Then again, the peak brightness of 250 nits is not that bad in most circumstances.
Otherwise, almost everything is positive about this monitor. You can expect a very vibrant and crystal-clear image and video quality from the monitor.
Connectivity Features:
Even though this is a very budget-friendly curved monitor, it has multiple connectivity solutions. For instance, it comes with an HDMI port and a VGA port at the back. So, you will be able to connect it to both the old and latest GPUs and media sources.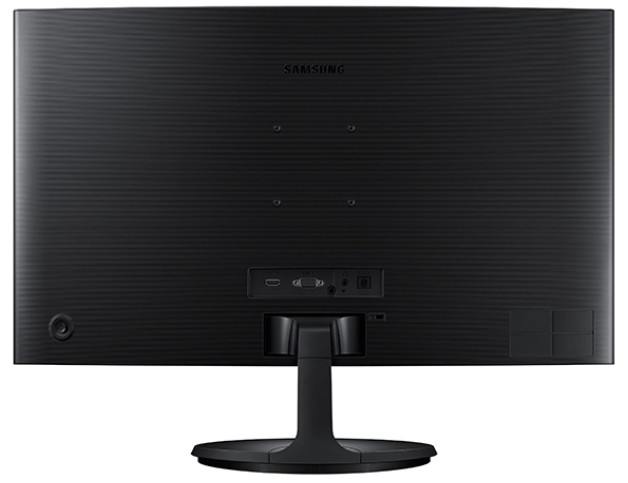 Furthermore, there is also a headphone jack at the back of the monitor. So, when you are using the HDMI cable, you can output the sound to your speaker or headphone directly from the monitor. As usual, the 'power in' port is also at the back.
Power Consumption:
Another great thing about the monitor is that it consumes very low power. In fact, the maximum power consumption of this monitor is up to 25 watts.
Better yet, when the monitor is in standby mode, it consumes only less than 0.3 watts. That means, if you want a monitor with less power consumption, this should be on your list.
We have also liked that it comes with an AC 100 to 240 volt power adapter. So, even in the event of voltage fluctuation, the monitor will be safe.
Samsung LC24F390FHNXZA Monitor Features:
In this section, we will be talking about the various unique features included by Samsung on this monitor. So, let's get to it…
Display Features:
This Samsung 24 inch curved monitor is full of display features. Among them, some of the most notable ones are the Samsung MagicUpscale, Active Crystal Color, Samsung MagicBright, Flicker Free, and more. Now, with the help of the Samsung MagicUpscale feature enabled, the monitor will upscale any low-resolution video to full HD resolution.
And, with the Samsung MagicBright features, you will be able to experience a bright and vibrant image and video quality from the monitor.
Along with that, the Flicker Free technology will ensure there is no flickering on the screen while you are using the monitor. You will also love the inclusion of the Active Crystal Color features, which allows the monitor to enhance the quality of an image/video to a greater extent.
Gaming Features:
This might not be a special gaming monitor. But it has a few features that can improve your gaming experience. For example, it comes with the AMD FreeSync technology.
So, if you enable that feature, there will be minimal screen tearing, or FPS dropping while you are gaming. Because the AMD FreeSync feature will sync the screen refresh rate with the frame rate of your monitor all the time.
Added to that, it also features the Samsung Game Mode. With the help of this feature, you will able to make ready your monitor for each type of game individually. Overall, for the gamers, this could be a good option, to say the least.
Additional Features:
The monitor comes with many more extra features as well. For example, you will like the 'Eco Saving Plus' mode. This mode will ensure that the monitor consumes less power by adjusting the screen brightness. So, while you are operating the monitor, it is not consuming the most power all the time.
Samsung also has included 'Eye Saver Mode' with this monitor. We all know that monitor's blue light is bad for our eyes and health.
And, staring at a monitor for a long time can have bad effects on our eyes. Thanks to this feature, you will be able to reduce the blue light emissions with the touch of a button. So, there is nothing to worry about eye strain while gaming, or doing your works on the monitor for a longer period of time.
In the package, you will be getting an HDMI cable, the power cable, and the quick setup guide. We have liked that they have included a free HDMI cable with the monitor.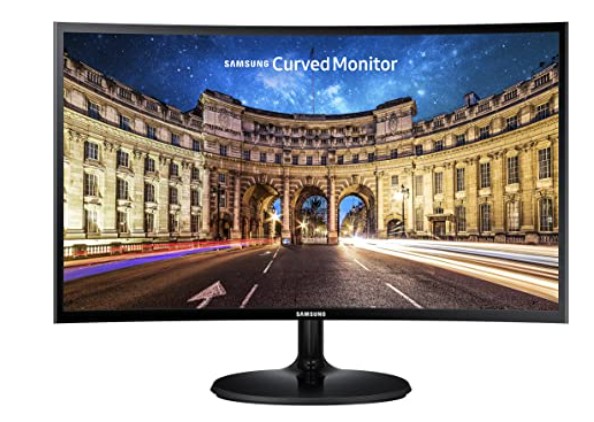 Quick Look at the Specifications:
Here are the main specifications of this curved monitor at a glance.
Screen Size: 23.5 inches (Advertised as 24 inches)
Aspect Ratio: 16:9
Screen Resolution: 1920×1080 Full HD
Display Panel Type: VA (Vertical Alignment) panel
Built-in Speakers: No
Refresh Rate: 60 Hz
Peak Brightness: 25o nits
VESA mount: Supports VESA Wall mount
Response Rate: 4 ms
Contrast Ratio: 3000:1
Curvature: 1800R
Typical Power Consumption: Maximum 25 watt
Max stand by power: Less than 0.3 watt
Mac Compatible: Yes
Viewing Angle: Up to 178-degree
Pros:
Budget-friendly curved monitor
VESA wall mount compatible
Has AMD FreeSync feature
Ultra-slim and minimalistic design
4 ms response time
Very low power consumption
Cons:
The brightness could be higher
Only tilt function is available
The power and joystick button is at the back of the monitor
No built-in speakers
Wrapping it up:
Normally, curved monitors tend to be a bit pricey. However, many brands have been offering budget-friendly curved monitors for the last few years. And, not all of those brands were trustworthy. However, when a top brand like Samsung came with this monitor, then you have nothing to worry about.
If you have read the review above, you should already know that this monitor offers the best bang for your buck when you are talking about a 24 inch curved monitor.
We know there are other monitors of the same caliber at a less price range than this. But if you are investing in a monitor, you should get it from a well-rated brand. And, Samsung is arguably the best display panel or monitor manufacturer in the world right now.
As always, if you have any suggestions or queries, you can leave them in the comment below. And, if you are still hesitant about buying this monitor or not, we would recommend it. Because considering the price, brand, features, and specifications, you can't go wrong choosing this monitor.