The Monitor Monitor participates in the Amazon Affiliates program and may receive a small percentage of a sale at no extra cost to you when you click some links on our site
If you are looking for the Samsung S27E510CS monitor review, then you are at the right place. To know more, keep reading the rest of the article.
Samsung is known as one of the best display manufacturers in the world at the moment. They even supply displays to other big tech companies like Dell, Asus, HP, etc. It clearly shows that they know how to make a good display.
Now, Samsung has many different types of monitors, including standard, widescreen, curved, and so on.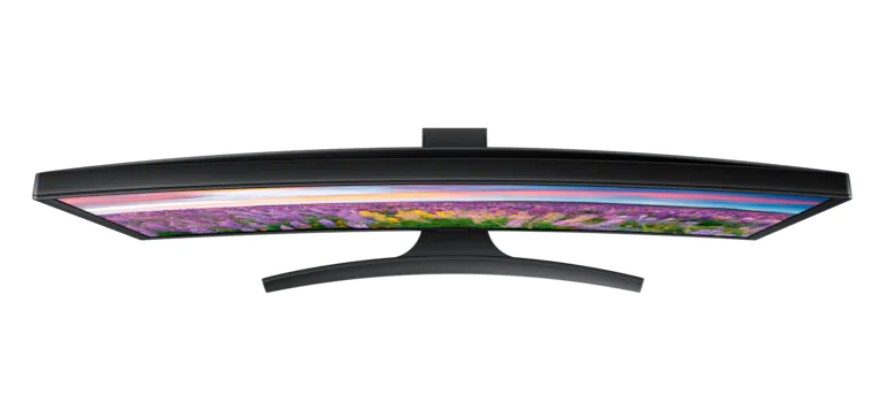 Today, we are going to review the Samsung S27E510CS monitor. This is a curved monitor from Samsung. And it comes with a lot of features and a reasonable price tag. The monitor was released a few years back. But it is still a popular one among users worldwide.
So, you might be thinking of getting this monitor. And you want to know more about this. Fear not! Because we have written this post for you to review this monitor. So let's go…
Review of the Samsung S27E510CS 27-inch Curved Gaming Monitor
The Outlook & Design
This is a 27-inch curved monitor. Samsung refers to it as a business monitor. So, it will be perfect for home and office use. The monitor has 4,000R curvature. This optimal curvature makes it comfortable to view on a 27-inch monitor. The monitor comes in black color. It doesn't come with a very slim bezel. However, the bezel is not that thick as well.
The Samsung s27e510cs monitor comes with a glossy black finish. So, it will catch the attention of the visitors without any issues. The unique thing about the monitor is its T-shaped stand. The monitor is designed in a specific way to allow you to keep your focus on display.
The monitor supports tilt from 20-degree to 2-degree. So you can adjust the viewing angle to your comfort easily. But, that is not all; this monitor also supports VESA 100×100 mm. So you can easily mount this to the wall without any problem.
The net dimension of the monitor with the stand is 623.2 x 463 x 181.6 mm. And if you remove the stand, then it measures 623.2 x 365.7 x 59.9 mm. At the same time, the weight of the monitor with the stand is 5.52 KG. At the same time, the weight of the monitor without the stand is only 4.91 KG. Simply put, the Samsung s27e510cs monitor comes with a sophisticated look.
Performance of Samsung S27E510CS Monitor
If you are going to buy a monitor, the most important aspect would be its performance. In addition, you will want a monitor that can perform on different categories. So, in this section, we will talk about the performance of the Samsung s27e510cs monitor. Here we go…
The monitor is known for offering top-notch performance in the image and video quality category. It is a VA panel with an active display size of 597.888 mm (H) x 336.312 mm (V). The monitor has a typical brightness of 250 cd/m2, while the minimum brightness is 200 cd/m2.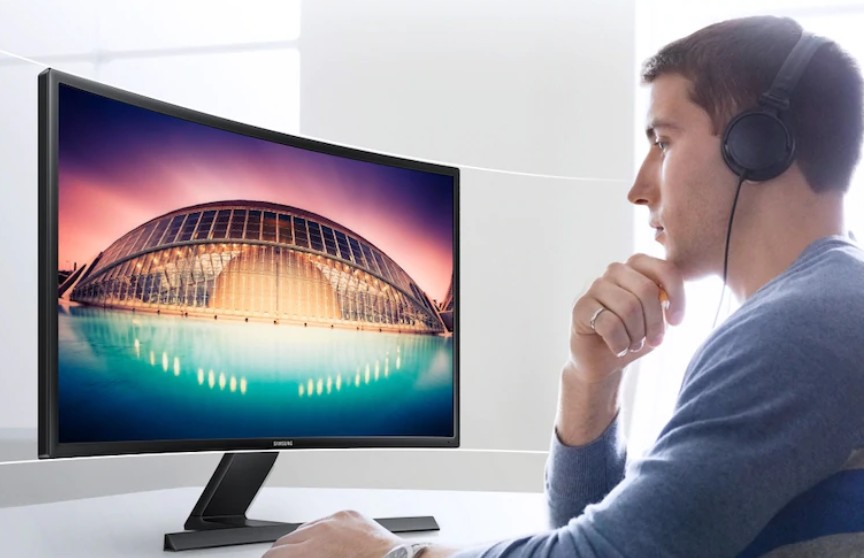 It comes with a screen resolution of 1920 x 1080 pixels. Even though it is a VA panel, it offers a viewing angle of 178° / 178°. The aspect ratio of the monitor is 16:9. Even though it is a business monitor, it has a response time of 4 ms. The refresh rate of the monitor is 60 Hz.
Also, the contrast ratio of the monitor is 3000:1 (typical) and 2400:1 (min). So, it will offer a good black to white contrast ratio. The 4000R curvature is also good for a 27-inch monitor. It also supports 16.7 million. The monitor is compatible with both Windows and Mac.
You should also be aware of the connectivity ports your monitor comes with. Interestingly, this monitor is full of all the important connectivity inputs. You will get 1 HDMI, 1 D-Sub, and 1 Headphone port at the back of this. Unfortunately, there is no DVI, Dual-Link DVI, DisplayPort, or USB Hub in this monitor.
Still, the HDMI port will do its job as it is almost always available on almost any GPU and motherboard. We have also got to know that there is no built-in speaker in this monitor as well. However, you can always use the headphone jack if you need to.
You will also need a monitor that is power efficient. It comes with a power adapter that is rated at AC 100 to 240 volt. Therefore, the standby power consumption of this monitor is 0.3 watts. Normally, Samsung hasn't specified the typical power consumption of the monitor. However, we can say that it is very power efficient for a 27-inch curved monitor.
Samsung S27E510CS Monitor Features
Next up, we will be talking about the special features of the Samsung s27e510cs monitor. This monitor comes with almost all the great features of a standard Samsung monitor. So, let's see what those are…
This 27-inch monitor is packed with some of the best display features. For instance, you are getting the Samsung MagicBright feature. With this feature enabled, it can brighten up any of the dark spots on the monitor. That can come in handy if you are gaming.
It also has the Samsung MagicUpscale feature. This feature helps upscale low-resolution videos without losing their quality. The Eye Saver Mode is also there. As the name suggests, this feature will save your eyes even if you use the monitor for a longer period.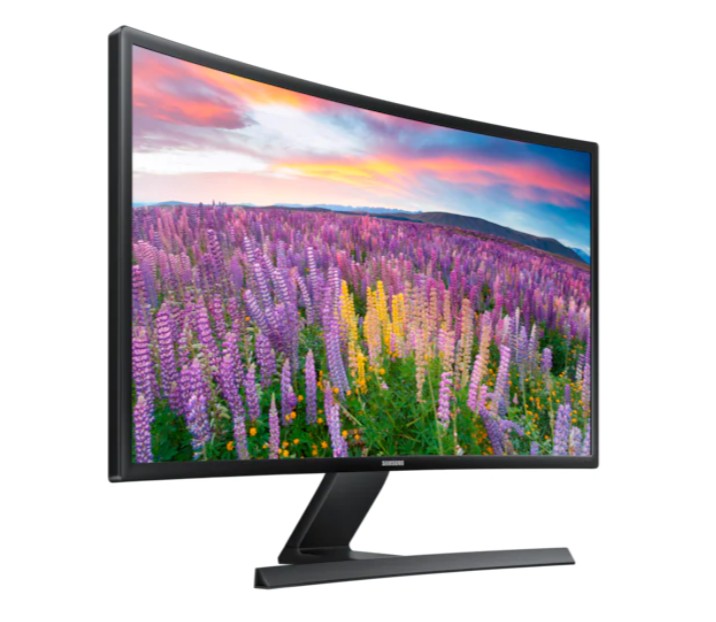 You will also love the Eco Saving Plus feature, which allows the monitor to consume power efficiently. At the same time, you will also get the Game Mode and the Flicker-Free mode on this monitor. If you are a gamer, you will love the Game Mode. And, the Flicker-Free mode will protect your eyes as well. So, all in all, you can say that the monitor is full of unique and useful display features.
You already know that this is not a gaming monitor. But this one has a low response time of only 4 ms. And the refresh rate is only 60 Hz on this monitor. Also, it has a special Game Mode. If you enable this mode then, it will improve the darkness of the picture so you can see the action properly. So, overall, even for a business monitor, this can be a great gaming monitor.
The monitor comes with a very easy-to-use OSD menu. You can easily access the OSD menu. Also, it is straightforward to use the OSD menu as well. You will get the HDMI cable and power adapter with the monitor. You will also get the D-sub cable with it. The packaged weight of the monitor is 7.16 Kg.
Quick Look at the Specifications
Here are the main specifications of this curved monitor at a glance:
Screen Size: 27 inches
Aspect Ratio: 16:9
Screen Resolution: 1920×1080 Full HD
Display Panel Type: VA (Vertical Alignment) panel
Built-in Speakers: No
Refresh Rate: 60 Hz
Peak Brightness: 25o nits
VESA mount: Supports VESA Wall mount 100×100 mm
Response Rate: 4 ms
Contrast Ratio: 3000:1
Curvature: 4000R
Typical Power Consumption: Maximum 30 watts
Max stand by power: Less than 0.3 watt
Mac Compatible: Yes
Viewing Angle: Up to 178-degree
Pros:
This is a curved monitor with a 27-inch display
Easy on the wallet
T-shape monitor stand
Fast 4 ms response time
Power-efficient
It comes with various display features
Cons:
There is no built-in speaker
Only tilt function
The peak brightness could be higher
Wrapping it up
The Samsung s27e510cs monitor is very popular. Because it is a budget-friendly one and also a curved monitor, on top of all these, you can see that this 27-inch monitor is also full of features.
So, this is no surprise that you will be getting a good monitor. However, it would be best to consider that you are getting a Samsung monitor in this case.
And, when it comes to this, Samsung is the best of the best. We have liked this monitor very much in terms of the price to performance ratio. Also, if you have read the review above, you will realize that it is actually a good pick for the price. We hope this post was helpful to you.
If you have liked this one, don't forget to share this one with others. And if you want to know anything more about this monitor or any other monitors, you can let us know in the comments below!
More Posts for You: