The Monitor Monitor participates in the Amazon Affiliates program and may receive a small percentage of a sale at no extra cost to you when you click some links on our site
Are you looking for the best monitor for color grading? Then you are at the right place. To know more, keep reading the rest of the post.
There are various types of monitors available out there. Some are great for gaming, while some others are great for professional activities. On the other hand, you might be looking for a monitor with the best color accuracy. If you are looking for the best monitor for color grading, then this post is for you.
Here, we will be sharing reviews of some of the best color-accurate monitors available in the market as of right now. In addition, we will also cover a comprehensive buying guide to decide for yourself which one you are going to buy.
So without further ado, let's get started…
Best Color Grading Monitors – Buying Guide
First of all, we will discuss some important factors you should consider while buying a monitor for color grading. Then, we will walk you through the reviews one by one. So, let's proceed…
Screen Size
Monitors come in different sizes. Usually, the most popular ones start from 21 inches to 34 inches. Of course, monitors are available outside of this range as well. There are widescreen monitors and curved monitors as well.
All of these variations have their pros and cons. So you should make sure you are getting a monitor that meets your requirements.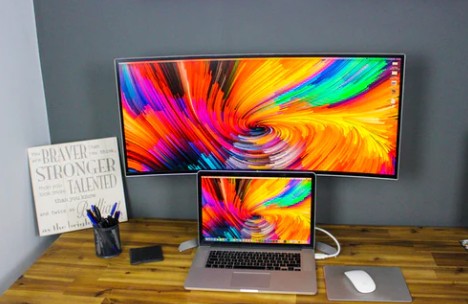 For example, a 21-inch monitor could be tiny for you. At the same time, a 34-inch widescreen monitor could be a bit larger for you. But we think a 27-inch monitor is the best option for color grading. Of course, it is all up to you to choose the screen size that suits you the most.
Screen Resolution
Next, you will need to think about the screen resolution. Normally, some of the most popular screen resolutions at the moment are 1080p or Full HD (1920 × 1080 pixels), 1440p Quad HD (2560 x 1440 pixels), and 4K (3840 x 2160 pixels).
Now, the higher the screen resolution, the pricier the monitor will be. If you will be working with 4K content most of the time, then it is worth going for a 4K monitor. Plus, if you have the budget and want a future-proof setup, you should opt for a 4K monitor.
But, if you know that you are mostly going to work with 1080p content, you can go with a monitor with Full HD resolution.
Viewing Angle
When working with color-sensitive content, you need to consider the viewing angle your monitor provides. Normally, IPS panels offer the best viewing angle. Most IPS panels come with a 178-degree viewing angle. If you think that you will not move much while working on the monitor, you can go with a monitor with less viewing angle.
But, if you think you will move laterally, you should opt for a monitor with a wider viewing angle—that way, the colors produced by the monitor will not be distorted from different angles. A monitor with a wide viewing angle will also come in handy if you want to show your work to other persons personally.
Monitor Calibration
Normally, your monitor will come with pre-calibrated image settings from the factory. However, it is not always the best setting. So, you will want to calibrate the monitor settings all over again.
Depending on the monitor, you will have different kinds of settings. Also, there are monitors with self-calibration features.
So, it is better to look for those monitors if you are not good at calibrating a monitor. But remember, those monitors with a self-calibration feature will be expensive.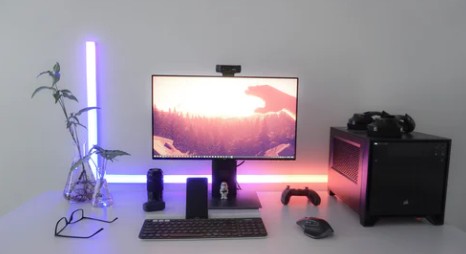 Another thing to note is that the performance of your monitor will decline over time. So, only a single calibrated setting will not be appreciable for your monitor.
Over time, you will have to calibrate the monitor repeatedly if you are going to use the monitor for a long time. So, your next monitor should come with detailed calibration settings.
Display Inputs
The display inputs don't have anything to do with the color accuracy of your monitor. However, you will want several types of display inputs on the back of your monitor. Also, it is better if there are multiple inputs of the same type.
Some of the most important display inputs your next monitor should have are HDMI, DisplayPort, DVI-D, etc. The more inputs it has, the better.
Price
Like any other products in the world, you must be concerned with the price of the new monitor. There are many brands offering monitors. And depending on the quality, size, and features, the price of these monitors will vary a lot.
As a result, it is better to set up a budget before heading over to the market. That way, you will be able to pick a monitor faster without overspending.
Reviews of the Best Monitors Color Grading
Now that you know some of the things you should be concerned with while choosing the best monitors for color grading. In the next section, we will review the top 10 monitors of color grading. Let's go…
EIZO ColorEdge CG2730-BK 27" Color Accurate Professional Monitor with Self-Calibration
This is a 27-inch monitor from the EIZO brand. Interestingly, this monitor is specially made for color grading and color accuracy. The monitor comes with a 2560×1440 screen resolution. There are 3 display inputs such as DVI-D, HDMI, and DisplayPort.
You will like that it comes with a wide color gamut with 98% DCI-P3 and 99% AdobeRGB color space coverage. Another great feature of this monitor is that it is equipped with a measurement device for fully automatic self-calibration.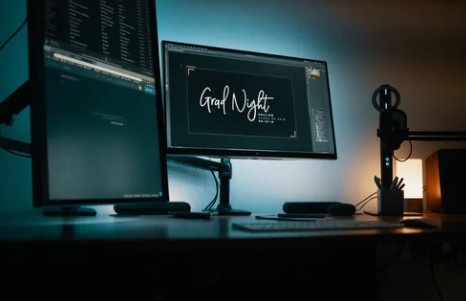 So, if you are looking for a self-calibrating monitor that is color accurate, you should look no further. We must tell you that it is a bit pricey.
But for a monitor of this caliber, the price is justified. For your information, EIZO offers a 5-year warranty on this monitor.
LG 27QN600-B 27" QHD (2560 x 1440) IPS Display
If you are on a budget constraint, then you can check this monitor from LG. Similar to the last one, this is also another 27-inch monitor. LG also offers this particular monitor at 24 and 32 inches screen sizes.
The monitor has a screen resolution of 2560 x 1440 pixels. In addition, it is an IPS panel, so that you will get a great viewing angle on this. You will also like that it comes with SRGB 99% color gamut. There are 2 HDMI and 1 DisplayPort inputs at the back of the monitor.
This monitor is compatible with HDR 10. We have also liked that it comes with a borderless design. All in all, this is a top-notch monitor for the price.
ASUS ProArt Display PA278QV 27" WQHD (2560 x 1440) Monitor
Asus is known for providing us with some of the best monitors in every category. Similarly, they also have a category for the monitors with the best color grading feature.
And the name of that series is Asus ProArt. From that series comes this 27-inch monitor, which is also an IPS monitor.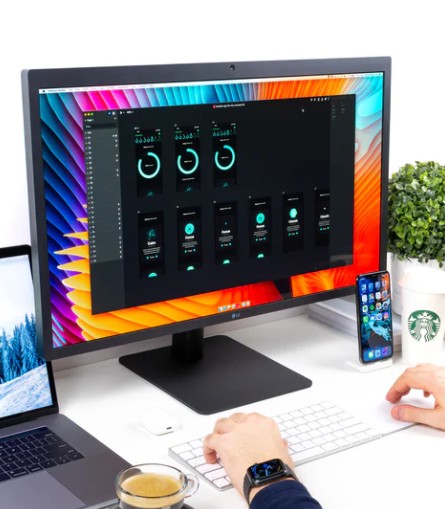 This one also features 2560 x 1440 pixels of screen resolution. There is 1 DVI, 1 HDMI, 1 DisplayPort 1.2, 1 mini-DisplayPort, 1 USB hub (4 USB 3.0 ports), 1 audio-in, and 1 earphone jack in this monitor.
In addition, this one comes with a 100% sRGB and 100% Rec. 709 wide color gamut of international standard.
In addition, it is pre-calibrated from the factory, which is also Calman verified for excellent Delta E < 2 color accuracy. At the same time, Asus also offers exclusive ProArt Preset and ProArt Palette on this monitor for additional color calibration.
The monitor comes with a swivel, tilt, pivot, and height-adjustable stand. It is also VESA wall mount compatible. You can see that this could be one of the best budget-friendly color grading monitors out there.
Acer Nitro XV272U Pbmiiprzx 27″ WQHD (2560 x 1440) IPS G-SYNC Compatible Monitor
We have to admit that Acer is also another top-rated brand for offering affordable monitors with great quality. This is very true in the case of the Acer Nitro XV272U Pbmiiprzx monitor as well. It is another 27-inch IPS monitor. It is compatible with G-Sync.
Some more gaming features are included in this, such as 144 Hz refresh rate, 1 ms VRB, Display HDR400, and more.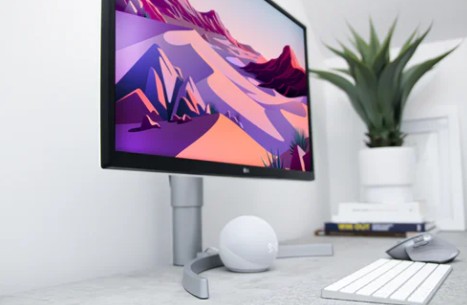 There are two built-in speakers as well. You will get 4 USB 3.0 ports, 1 DisplayPort, 2 HDMI 2.0 ports on this monitor. It is also a monitor with a 2560 x 1440 screen resolution.
It can produce a very accurate color with a low Delta E<2. Plus, it supports 130% of the sRGB and covers up to 95% of the DCI-P3 color space. So, if you want a color grading monitor without breaking the bank, this should be on your list.
Acer Predator XB271HK bmiprz 27-inch
As the name suggests, this is another monitor from Acer. Similar to the last one, this one also features a 27-inch screen size. With this, you are getting 1 HDMI, 1 DisplayPort, 4 USB 3 ports, and 2 built-in speakers.
But it has a refresh rate of 60 Hz. And you will be amazed to know that this monitor is a 4K monitor with a screen resolution of 3840 x 2160 pixels.
It is also compatible with NVIDIA G-Sync and has a viewing angle of 178-degree as it is an IPS panel. So, if you are looking for a 4K monitor at a reasonable price, this could be the one you are looking for.
SAMSUNG LU28E570DS/ZA 28-Inch UE570 UHD 4K Gaming Monitor
Does Samsung need any introduction? Not that we reckon. Samsung is one of the most popular brands in manufacturing display panels for a long time. In fact, many other companies buy display panels from Samsung and rebrand those panels later. So you can see how big Samsung is in the industry.
Now, this monitor is a 4K monitor of 28-inch screen size from Samsung. As usual, it has some gaming features as well, such as AMD FreeSync and a 1 ms response rate. There are two HDMI ports and 1 DisplayPort.
The peak brightness of the monitor is 370 nits. So, it can get very bright as well. In addition, it has a 170-degree viewing angle.
BenQ SW2700PT 27 Inch QHD 1440P IPS Photography Monitor
The next monitor on our list is from BenQ. It is a 27-inch monitor with a 1440p screen resolution. You will like that it has 99% Adobe RGB color space and Delta E≤ 2. Plus, it comes pre-calibrated from the factory with the factory report.
But you can also calibrate it as you would like as it comes with palette master element calibration software, hardware calibration, and 14-bit 3D LUT for accurate color reproduction.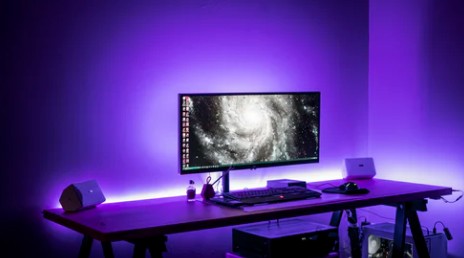 In addition, it has a built-in shading hood for minimizing ambient light. You will love the inclusion of the hotkey Puck buttons to switch between various color modes faster and easier.
On top of that, this BenQ monitor is Pantone validated for its color accuracy. All in all, this is a reasonably priced monitor with some great features for color grading.
The Asus ProArt series has a great collection of monitors for color grading. So our post would not be complete without including one of their high-end monitors from that series. This is a 32-inch monitor with a 4K screen resolution. So, if you are looking for a bigger screen with a higher screen resolution, this could be a great choice.
The monitor is equipped with 1 DisplayPort 1. 2, 1 Mini-DisplayPort 1. 2 and 4 HDMI 2. 0, USB 3.0 ports, SD card slot, earphone jack inputs. It has 4 color temperature selection modes.
Plus, you are getting 14-bit LUT with Asus ProArt calibration technology. It also comes pre-calibrated from the factory and supports DIC-P3 and Rec color standards of 2020.
Another great feature of this one is 100% rec. 709 & 99. 5% Adobe RGB true color reproduction. Along with that, this monitor is also compatible with X-Rite i1 Display Pro, Data color spider 5 Series, and many other hardware calibrators.
Overall, if you have the budget, it can be a good pick for color grading.
BenQ PD2700U 27 inch 4K Monitor for Designers
This is a 27-inch monitor from BenQ specifically made for designers and professionals who work with color grading. This monitor features 'AQColor technology', with which you will get exceptional color accuracy. The BenQ PD2700U is a 4K monitor as well.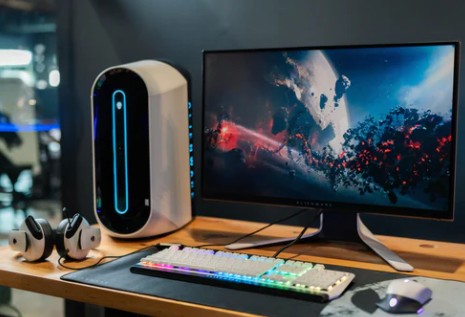 Thanks to the IPS panel, you will have a vast viewing angle. In addition, it covers 100%sRGB and Rec. 709 and has Delta E ≤ 3. Like other premium color-accurate monitors, it also comes pre-calibrated from the factory.
It also features specialized Designer Modes, Animation Modes, Darkroom modes, and CAD/CAM modes. CalMAN and Pantone validate the factory calibration reports.
The last one on our list is another ASUS ProArt monitor with a lot of features. This is a 32-inch monitor with 3840 X 2160p or 4K screen resolution. There are 2 Thunderbolt 3 ports, 1 DisplayPort 1.2, 2 USB 3.0 ports, 3 HDMI 2.0 inputs, and 3W stereo speakers built-in.
Besides, it has Asus SMART HDR technology.
Thanks to the Quantum-dot technology, it can offer  99% DCI-P3, 99.5% Adobe RGB, and 100% sRGB, 89% rec. 2020 color space for incredible color fidelity. As usual, it is packed with the Asus ProArt calibration technology.
So you can easily calibrate it for the best experience on your own. If the high price of this monitor is not a problem for you, you can go with this one without a doubt.
Closing Thoughts 
If you are still with us, you are familiar with some of the best monitors for color grading. Because we have reviewed 10 of the most popular monitors for professionals above, remember, it is possible that your favorite monitor has not made it to our list.
But that doesn't mean that it is a bad monitor. We have tried to include only the best monitors, not pricey yet have some good features and specifications. Also, we have tried to ensure that you can choose your next monitor from a variety of different brands.
So you will find monitors from the most popular brands out there. At the same time, we have also shared some critical information as a buying guide. We hope these pieces of information will come in handy while you are shopping for your next monitor.
And of course, if you have any other great monitors for color grading that we have not mentioned above, you can let us know about them in the comments below. Plus, don't hesitate to share this post with others to help them make up their mind when buying a good monitor for color grading.
More Posts for You: