GTX 1080 Introduction
The NVIDIA Geforce GTX 1090 is powered by NVIDIA Pascal Architecture. Pascal won many awards some of which include the AIS award and Gordon Bell Prize.
It is a new graphics card release and is only a few months old at the time of this post publication. It has been succeeded by the Nvidia RTX 2080 but it is still worth the purchase because it gives you the capability to pair this card with 4K monitors at a reasonably affordable price.
Compared to previous graphics card models offered by Nvidia, the GTX 1080 offers up to 30 percent increase in performances. It requires only 180 watts off power and 1 eight-pin PCI express power input.
The optimisation drive that was newly introduced into this GTX graphics card allows for clock speeds that are 30 percent quicker than the preceding 900 series.
With using only, a 15nm Finfet processor, the GTX 1080 also increases its number of transistors by 2x.
One concern many gamers have is that the 4K monitor lacks a high refresh rate, but this graphics card uses DisplayPort 1.4 connection standard which can pump out 4k at up to 144Hz. It can even support gaming panels up to 8K at 60Hz refresh rate.
The graphics card has 2560 shaders, 160 texture units, and a GPU boost clocker running at 1733MHz. One way to gauge the power and performance capability of a graphics card is to look at its teraflops rating. The GTX 1080 has 9 which means compared to the 980 which only had 4.5, it is twice as powerful as its preceding standard unit.
Best Monitors for GTX 1080
There are many monitors you could buy that are compatible with this graphics video card. However, we're focused on only the best monitors for GTX 1080 and here is the list:
ASUS ROG Swift PG27UQ 27″ 4K UHD 144Hz DP HDMI G-SYNC HDR Aura Sync Gaming Monitor with Eye Care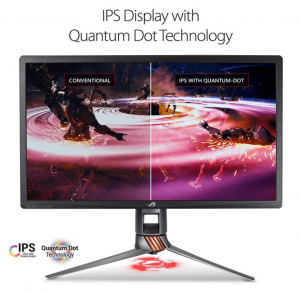 This monitor is perhaps the best monitor for the GTX Geforce 1080. It is a 4K monitor with a refresh rate of 144Hz. It is HDR with integrated Aura sync and the light sensor makes it compliant with ROG standards and design. It also supports NVIDIA G-SYNC which has made it on the wish light for gamers across North America.
Time for you to invest it one yourself! Furthermore, the Quantum DOT IPS Display with 97% DCI-P3 color gamut ensures realistic colors and virtually zero screen tearing or color contrast problems. The resolution has been increased in the ROG SWIFT second generation 4K monitor with it sitting at 3840X2160.
The only downside I found was the price is certainly an investment. But with a couple hundred dollars savings which you can collect now on Amazon, you will certainly be impressed with the edge it gives you in online gaming and the visual enjoyment it provides.

Acer Predator XB281HK bmiprz 28-inch UHD (3840×2160) NVIDIA G-SYNC Monitor (Display Port & HDMI Port)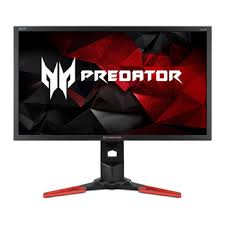 This monitor is the budget friendly option for those that want to enjoy the benefits of 4K and G-SYNC but don't want to invest in some of the other benefits that the ROG swift monitor offers. It is made by ACER as part of the predator series and it is 4K UHD. It supports NVDIA G-SYNC and has a display port 1.2 connection standard. The refresh rate is 60 Hz so there is a substantial difference in frames per second rating compared to the previous ROG SWIFT panel we recommended.
The great thing about 4K is that is the future, 4K supports all types of media including the modern games, Netflix, and Blu-Ray.
Furthermore, it supports USB 3.0 and has a response time of 1ms. Pixel pitch is one of the lowest I've seen which is good because it is only 0.16mm. The flicker-less technology reduces the screen flickering and blue light that begins to illuminate on screen when the monitor is left on for prolonged durations. You can wall mount this monitor, although the stand is very nice, but it supports VESA mount standard of 4×4 inches.

Dell 4K S2817Q 28″ Screen LCD Monitor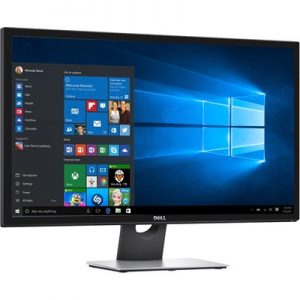 This is the best monitor for the GTX 1080 if you don't want to pay a high price tag but want to enjoy the 4K capability the graphics card can offer you. It has a 28-inch screen with dual 9W integrated speakers. The response time is 2ms and refresh rate is 60Hz which derives from an optimal resolution of 3840X2160. 1.07 billion colors in its color gamut library means you get the most accurate contrast visual.
Its aspect ratio is 16:9 which gives the user a wide viewing angle. It's a TN panel and we found it is a great budget friendly option for the GTX 1080 graphics card. 4K technology means a high-density display for you. The design and construction of the monitor is also sleek and modern.

Acer Gaming Monitor 27" Curved ED273 Abidpx 1920 x 1080 144Hz Refresh Rate AMD FREESYNC Technology (Display Port, HDMI & DVI Ports)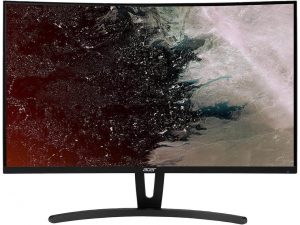 We're recommending this monitor primarily because many users have found this resolution and refresh rate to work well in conjunction with the GTX 1080. Although it is FreeSync, the monitor works good as an affordable option. The pixel pitch is standard at 0.3114mm.
It is a curved monitor, so you may need to bear this in mind if you want to still perform office tasks because some folks have stated a difficulty when using spreadsheet programs. It has a wide viewing angle and can display accurate color resolution up to 178 degrees.

Conclusion
In conclusion, the GTX 1080 is a great graphics card that is affordable and deliver the performance that so many gamers need and desire. If you have a GTX 1080 and need a good monitor to pair, begin looking at the G-SYNC options available because those are most compatible with the card. Next, you could try to pair it up with a FreeSync monitor but getting the same screen-tearing reduction may not be possible.