Video editing came as a gift from heaven to all if just to ensure that we get high-quality videos out there whether it's on our TVs, mobile phones or computers. Previously it had been one of the most gruesome tasks that one could ever encounter but at the advent of the current hardware components on computers and especially in regards to the mobile space, video editing has become as easy a task as any.
The rise of digital streaming services and smartphones has necessitated the enhancement of video editing skills due to the high number of low-quality videos doing rounds everywhere almost all the time. One good thing though is that it doesn't take much effort to transfer videos from a camcorder to a laptop as it did there before, all you need is a card slot or a standard cable connecting to a USB or Thunderbolt port and you are good to go.
The world of video has shifted rapidly from standard definition (SD) videos to high definition (HD) and Full HD has now become mainstream without forgetting the surging popularity of 4K. This simply translates to more data being processed in real-time as each 4K frame has 4X the amount of data as a Full HD, 9X as an HD one and a massive 36X more pixels than an SD footage.
Your video editing needs will depend on among other things; the application that you are using, the resolution you are outputting to and your budget.
What to Consider When Buying  a Video Editing Laptop
Videographers and all other laptop users may be faced with the dilemma of which is the best laptop to purchase among those available in the market. The following are simple guidelines one can check on when looking to purchase a video editing laptop.
Capacity
The effectiveness of your work as a video editor will be influenced by the hard drive of the laptop that you will be using and as such one needs to be on the lookout for the capacity of the machine's hard drive before any purchase. If working on a budget check on the speed and storage as it storage that will allow you to work with hose high definition videos.
Solid State Disk(SSD)
Professional editors seeking a high-performance laptop need to opt for the SSD as oppose to the HDD. Budget wise they may be more expensive than the usual HDD but their value is invaluable. The best range to work with on the SSD is starting from 500GB upwards as this will allow for efficient video editing without having to use an external drive.
Adequate system memory
The Random Access Memory of the machine you are using will determine the amount of intermittent data that can be handled and when it comes to motion graphics editing, a huge RAM is required. The modern 4K videos are slowly becoming popular and in order to work with or on them properly one needs RAM not less than 8GB. One good thing about this is that one can always expand their RAM.
Screen resolution
Screen resolution has no compromise when it comes to matters video editing. One needs to have a high screen resolution if they wish to produce videos that are of high quality too. The screen size should also be one that can be termed as being satisfactory thus 15.6-inch as the standard.
High-quality graphics
To achieve the best video editing results, one needs to watch the videos as they edit and this calls for one to transfer the footage from information to pixels. In order to do so one needs to get a high-quality graphics card and in this regard, the NVIDIA and AMD graphic cards stand out as being the most reliable.
Reliable processing power
The art of video editing demands that as one is working on their laptop, they may need to have several components of their laptop multitask and here the power and reliability of the CPU are tested such that if the CPU is not reliable, the work may be substandard. The best bet when looking for a CPU should be the consideration of a CPU that is not less than the dual core i5 machine.
Which are the Best Laptops for Video Editing
Dell Inspiron i7559-2512 BLK Laptop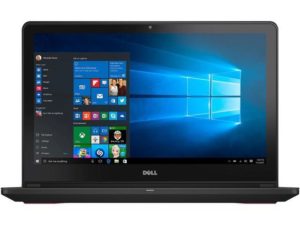 When it comes to the production of high-quality laptops Dell never disappoints and this creation of theirs is one among the best video editing laptops available in the market. With an amazing design that would capture the eye of anyone that sets their eyes on it and coupled up with an aesthetics-conscious Pro, the Dell Inspiron i7559-2512 BLK laptop is nothing short of a darling.
Apart from its impressive looks, when it comes to performance, it is quite decent for not too demanding, 1080 pixels work. Built with a 4 GB NVIDIA GeForce GTX 960M graphics reproduction center, a 1980 X 1080 pixels, a 15.6-inch display screen and topped up with Intel's 6th Gen Core i7 quad-core processor and a 8 GB RAM that ensures you work smoothly without any hitches due to the laptop hanging or freezing.
What makes this version of Dell unique is the 1 TB hard disk and 8 GB RAM setup. We all know that a storage capacity of 1TB means that you have more space for high-quality videos to be stored after editing has been done to them. Some may argue that it may not be as efficient as a full-on SSD drive but the affordable tag to the laptop and its overall decent performance without a doubt position the Dell Inspiron i7559-2512 BLK laptop as one among the best video editing laptops of 2017.
Dell Precision 5510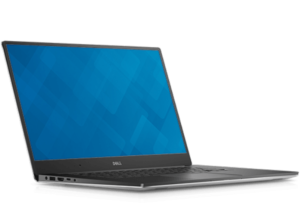 If you fall in the category of multimedia workers, photographers or video professionals, the Dell Precision (15 5000 series) 5510 laptop is here for no one else but you and your given workstation. Many have compared it to the mobile version of the hot looker, the XPS 15.
The package that comes with it is nothing short of impressive as you get an 8-million pixel, 15.6 inches, 4K display to highlight the best aspects of the motion pictures that you will be working on. Be assured of cutting-edge clarity of the work you will be handling at all times as the 4K, Ultra High Definition screen packs a more than impressive 3840 X 2160 pixels.
The laptop provides a variety of connectivity options among them a USB 3.0, USB-C with Thunderbolt 3, an HDMI port and headset for the quality sound aspect. It also has a massive 512 GB worth of SSD storage. Should there be times when you'll be in need of speed of light rendering, a 2.8 GHz equipped in the laptop will be your answer.
There is also a Quad Core Intel processor (the Xeon E3-1505M v5 to be precise), the magnificent laptop also comes along with a 16 GB RAM and a 2 GB NVIDIA Quadro M10001M graphics card that is sure to be more than sufficient even for the most extensive of video editing projects.
For anyone wishing to take advantage of the rising popularity of the 4K video format, the 5510 is your best partner in crime.
Lenovo ThinkPad P70 4K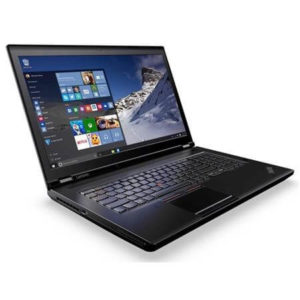 Everyone that lays hands to the Lenovo ThinkPad P70 4K attests to never going back to their desktops as their prime choice for a workstation. It happens to be a bit heavier than other options available as it is has a 17-inch display and weighs about 7.6 pounds but there is a ton of reasons that is embodied in its features for which am sure you won't mind carrying it.
The Lenovo ThinkPad P70 4K has asserted itself as the heavyweight champion to beat in the video editing field because its display is full 4K equipped with Window 7 Pro suite, an Intel Xeon CPU, 16 GB RAM ( allows for an upgrade of up to 64 GB), a 2 GB NVIDIA professional graphics chip and finally a 512 GB PCIe SSD storage.
The laptop's  96Whr battery is a clear indication that it has been designed for the outdoor or nomadic video editor that may need the services of his/her laptops on the go.
The only misgiving of the ThinkPad P70 package is that the X-Rie Pantone calibration tool comes only as an option and has to be included later after the purchase as it is not accessible at the time of purchase. But despite this, rest assured that when it comes to connectivity options you'll never run out of them. It also comes coupled with memory modules, an iconic TrackPoint for the most precise of selection, a ThinkPad Keyboard, and P70 SKUs.
Aesthetics may not be key in the design of the ThinkPad but that sacrifice is replaced in full by the reliability it gives when it comes to performance as video editing laptop.
Asus ROG GL551JW-DS71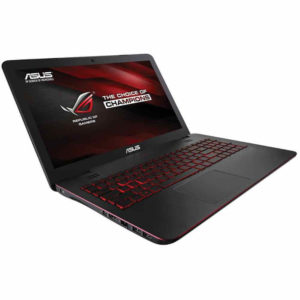 The ultimate fulfillment of a video editor's desire comes in the Asus ROG GL551JW-DS71 which offers nothing but ultimately the best user experience available anywhere. Built with a 15.6-inch full HD screen that is just the right size for anyone who needs to edit videos. It is also coupled with an Intel Core i7-4710HQ processor that can clock up to an impressive 2.5 GHz speed with only a 16 GB RAM. Your editing needs are fully catered for through its Optimus Technology for the graphics bit.
One is sure to come up with the best performance videos and high-quality images as a result of the Full High Definition display that is useful in editing your HD videos while the NVIDIA GeForce Experience software ensures that the whole process is optimized while you edit your videos.
Portability and reliability will not be a bother to you so long as you have this laptop as it has sufficient battery life to keep you going while on the move or outdoors thanks to the Optimus Technology that is a way of switching between the discrete and integrated graphics. This feature ensures that you have the best performance possible from a modern machine. The Intel Core i7 in this laptop make provides a distinctive feature that makes the best photo and video editing purpose besides also serving as a good alternative when it comes to other users that may arise such as gaming.
Toshiba Satellite S55-C5274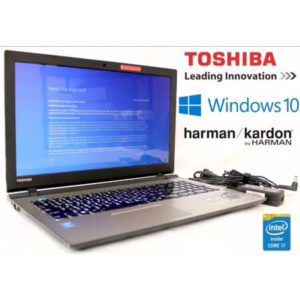 Toshiba is no new boy in the laptop making field and has been able to gain respect in its own right. Here they give us the Toshiba Satellite which apart from just being affordable, it also gives video editors the best experience ever. It has a 15.6-inch screen for the best video display coupled up with an Intel Core i7-5500U 2.4 GHz processor and a NVIDIA GeForce GT 740M graphics card.
The resolution provided for by the Toshiba Satellite is up to 1368 X 768 pixels which support HD videos. Though it may not support the 4K video format, its capability to handle HD and Full HD sets it at par when it comes to competing with other brands in the category. It also has a 12GB DDR3L-SD RAM that allows for ease of work and o top of it all its light weight makes it portable. It is just over 5 pounds and just a hair thicker than one inch.
The keyboard is another amazing feature of this laptop as it provides a satisfyingly deep click under your fingers due to its generous flat-topped keys, plus a full-size separate number pad. The keyboard is also backlit which provides a nice extra incentive for this affordable model from Toshiba.
HP ZBook Studio G3 (T70W05ET) Laptop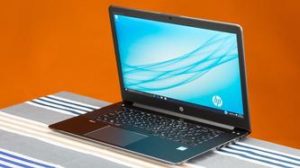 Another big name brand that has decided to be a blessing to video editors around the world is HP. The veteran manufacturer has come up with the HP ZBook which is made for the video editing professional who looks for more than what meets the eye.
This make is a top contender for serious editing jobs as it comes with a 4K, UHD (3840 X 2160 pixels) and 15.6-inch display. If working  with colors is your preference then you have a good companion in the HP ZBook as it works best with white scenes and warm, glowing colors although at first, it will need some tweaking in the settings to achieve this as it is initially formatted to make scenes a bit darker than they may really be in real life or in the original video.
The Zbook works with the speed of light as I ships with a gargantuan 32 GB of RAM and this can be clearly seen in its performance that does not disappoint even a single bit. It has a 512 SSD storage space that is sufficiently efficient for the most part as well and its Xeon Intel Core(E3-1505M v5) processor is nothing but simply awesome for a laptop. Your graphics needs are catered for by the existence of a 4GB NVIDIA Quadro M10001M graphics card.
One would not ask for me whenever they are looking for a fast, reliable and high performing video editing workstation while on the go as it has 5 hours of battery life provided once on a full charge. Its light weight and has a good design and it's the best option for a portable workstation.
Eurocom Sky MX5 R2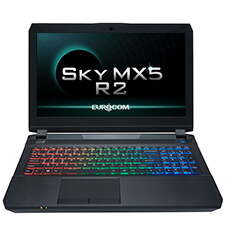 A new entrant into the market is Canada's Eurocom who besides being quite an amateur company are still sending ripples down the spines of big boys in the established market. The company was able to be intuitive enough and spot a niche in the market of portable workstations earlier on and as a result, it focuses on performance and upgrades capabilities of each single machine that they produce without any compromise to it.
The Sky MX5 is a clear statement of this intention by the company as it weighs a massive 4.8kg, has a larger footprint than the ordinary A3 ream of paper that you and I know and also weighs almost much the same as the A3 ream of paper. The question comes as who would like to carry such a load in the name of a portable workstation computer especially for video editing purposes since it weighs four times more than the average Ultrabook.
But for the hardcore videographers that are into suitability, an enticement for them is the ability to customize the laptop as much as you want. From the keyboard, the warranty of the product and even its operating system, this model provides a wide range of features that one can tinker with here and there to have the laptop perform the best for them and be most appealing at the same time.
Now the ultimate crazy hit on the Eurocom Sky MX5 is the toppling of all other models when it comes to the competition for a number of ports. The Sky MX5 has a massive 15 ports that include 2 GB Ethernet connectors. It also has ditto for expansion capabilities being one of the very first laptops on the market with four SODIMM memory sockets.
Apple Mac Book Pro With Touch Bar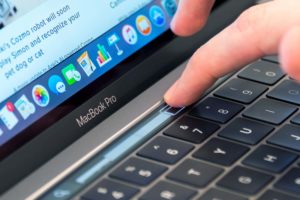 Speak of class and apple will always top the list. The company has been in the game long enough to command respect through the products it produces and their remarkable quality has never been a letdown.
Apple laptops are known for their crisp Retina Display feature which may of the top video editors dream of being part of their editing set ups. The new Apple Mac Book with Touch Bar is a statement of intent by the company and it dares you to find a competitor for it in the market that it has without doubt conquered.
The Mac Book is a 15-inch portable device that comes with the awesomeness of Iris Pro graphics as a boost for video editing lovers. With Apple also comes price as with any other quality product and therefore the base model starts at over $1,900 and that's the price of the basic model that comes without a Touch Bar which has worked well to replace buttons although it's still a new toy for people who are not iPhone-heavy pros.
Once you decide to focus on the features and ignore the price range, you may be lucky to pounce on a magnificent MacBook Pro equipped to go with a powerful Intel Core i7 CPU that has been tested to clock 2.9 GHz. It also has an efficient 4GB AMD Radeon Pro 460 Graphics card that will just be the answer for all your video editing needs. The 2TB storage hard disk shows just how much confidence you can have in the laptop's storage capabilities.
Microsoft Surface Book Laptop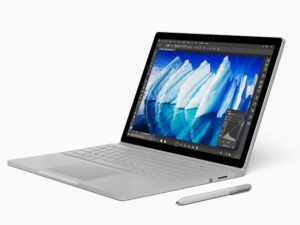 Bill Gates' billion dollar company would not miss on this list as it comes in with a gift for videographers in the form of the Microsoft Surface Book Laptop that comes with an ample 1TB of SSD storage should you be working with a massive collection of video clips or be in need of enough room for the most powerful video editing software suites and accompaniments available in the market. If yours is an artistic-leaning endeavor, the 2-in-1 touch functionality is designed just for you.
You need not worry about the Ram as the Surface Book comes with a generous RAM of 16GB that works to ensure that your video projects are utterly seamless. This laptop does not only scathe the surface of your hardcore mobile editing experience but also delivers what we can describe as the most exceptional, lag-less and smooth video editing sessions one can possibly find.
The Surface Book is built with the 6th Gen, Intel Core i7 CPU and an effective 2GB of GDDR5 graphics power that comes from NVIDIA's GTX965M chip. The only ill though is that exporting of videos and the camera tracking in After Effects are a bit slow and will call for some patience.
Asus K501W-AB78 FHD
This release from Asus features the latest Intel Core i7 processor and NVIDIA GeForce GTX 960M graphics that allows for streaming of HD videos and thus acting as an enticement to videographers out there.
The K501 is less than an inch thick and it combines exceptional performance with high mobility. It also as Asus-exclusive cooling techniques that set it apart from other competition by ensuring that the laptop always remains cool and thus a smooth and enjoyable computing experience on the go.
On top of that, ASUS-exclusive cooling techniques take it to the next level, ensuring your laptop always stays nice and cool to deliver a smooth and quality computing experience.
As a powerful video editing laptop that can edit up to Full HD(1080 p) videos such as quality YouTube clips, the Asus K501 is designed for those that do not seek a mobile editing workstation for high-end, raw and high-res videos.
The K501 has a good 512 GB of storage space, a decent 8 GB of RAM  and is a 15.6-inch FHD laptop that makes it easily portable for the jet setter professional videographer.
Conclusion
As you can see, you have a wide array of laptops to choose from. When you find the best laptop for video editing, you will have an easy time in video editing. We have reviewed some of the best models out there and also given you a guide on how to find the best laptop for video editing. We hope that the information we have provided will help you make an informed decision. We wish you all the best in your shopping and you can keep checking for more information right here.