The Monitor Monitor participates in the Amazon Affiliates program and may receive a small percentage of a sale at no extra cost to you when you click some links on our site
Entering the world of high performance gaming is always a challenging adventure. If that is building your own new system from scratch or purchasing a system off the shelf or customized, there are a number of key considerations you need to make. Temptation and habit dictate that people are more engrossed by the stylish exterior of a new machine. True, finding that stylish yet powerful GPU or the perfect casing to show off your new creation may hold more allure. There is one area however that you cannot afford to overlook, the forgotten yet essential piece of the puzzle. The Power Supply Unit.
Many may take the PSU for granted. It is however, essential to optimizing your machines performance. It is a part of the machine that you may be tempted to save costs on. This should not happen however. Luckily we will take a look at some of the main players when it comes to the PSU and take an in-depth look at some of the best models these companies have to offer.
Advantages of a High Quality PSU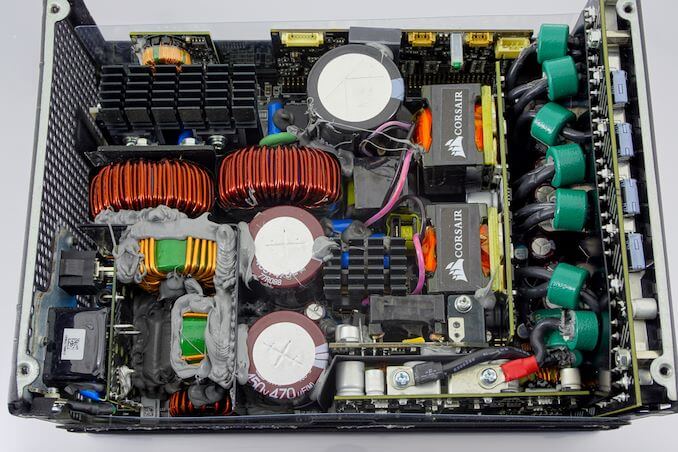 Before we delve deeper into the review of the actual units, let's take a look at some of the reasons PSU should not be forgotten as an essential quality item when putting together your system.
By providing your system with a durable and safe power source, you are effectively insuring your system and its components. This obviously means that they will function as intended in the first instance. It will also mean that they last longer over all. This may not be instantly noticeable, but the benefits over time to you gaming performance are proven.
A high quality and effective power supply unit with a high efficiency rating will also help to greatly reduce your power bills. By performing more efficiently and minimizing power wastage in various instances, a good PSU can help you where it matters. Your pocket. Money invested in a high quality PSU will be reap dividends in the future.
If you are one who likes to continually upgrade your system, a high quality PSU is essential for you. It can provide you with enough excess capability to freely upgrade your system and components without having to worry if your Power Supply Unit can handle the increased output. Don't forget that modern PSUs also come with a host of other benefits, such as enabling the use of external devices.
EVGA

EVGA is a brand synonymous with high quality in a number of products throughout the industry, from monitors to graphics cards and beyond. PSUs are no exception. They are a leading player in the market with a number of top quality offerings. Here are two of their best at the moment:
EVGA SuperNova 650 G2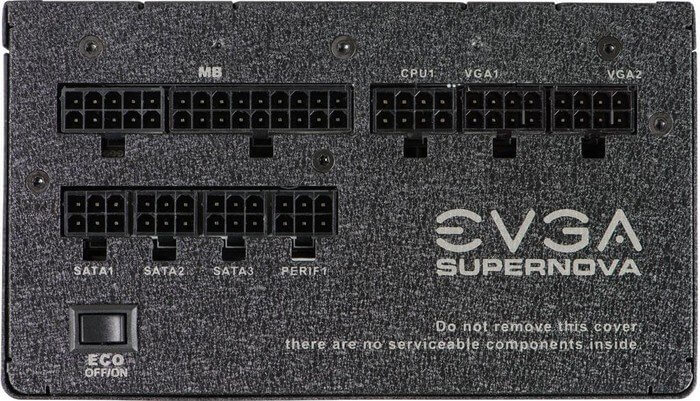 We start our review with the excellent Supernova 650 G2. This PSU is excellent value with a fantastic performance. Certified as 80 Plus Gold, you can rest assured that performance will be outstanding.
At an output of 650W it may be considered rather low. However, in today's market, low-capacity units are becoming ever more sought after. Many GPUs on the current market are much more efficient and simply do not need a huge capacity PSU. With that said, the 650 G2 is more than capable of surviving through several system upgrades or new builds whilst still providing a high level of performance.
More important currently is a model which can provide moderate level output but also durability and quality design. This is something which is certainly taken in to account by the 650 G2. It is one of the most reliable PSUs on the market.
The 650 G2 has wonderful ripple suppression and supports load regulation at +12V. It also comes with a seven year warranty which shows total confidence in its durability and should also serve to bolster the confidence of buyers.
Besides being ideal for a gaming PC on the higher end of the scale, the 650 offers excellent efficiency with lighter capacities also.
It is a compact and convenient design. A black matte-finish compliments the durability of the unit and does not attract unwelcome marks. It has a slickly finished fan grill and an easy to reach Eco-switch to the rear.
All around, the 650 gives us maximum efficiency and reliability. It is suitable for a host of users from casual to high-end and will remain with you through many systems over a number of years. It therefore represents great value.
EVGA SuperNova 1600 P2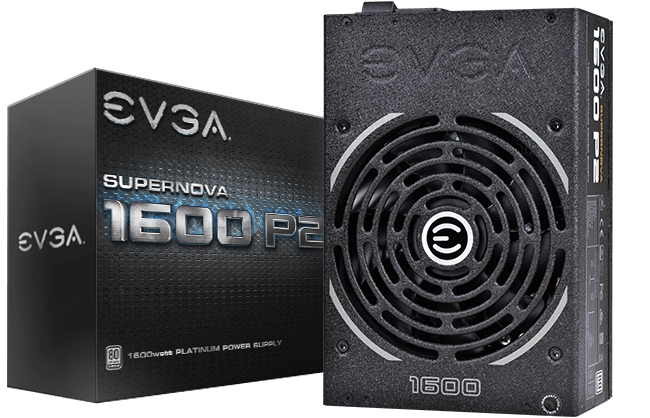 No review of EVGA power supply units would be complete without taking a look at its flagship model. The Supernova 1600 with its monstrous capacity is a true standard bearer. This model is the benchmark for many other powerful PSUs within the market.
It is highly likely that you will not utilize the full power of this 80 plus platinum rated beast. That is unless you are mining cryptocurrency or other highly intensive workloads. There is however a fantastic sense of pride to be garnered from using such a highly powerful PSU. In addition to that, you would likely never have to upgrade.
It performs an extremely high functioning operation with quiet ease. The performance levels of the P2 are unrivalled in a number of areas.
As expected with such a highly powerful unit, it is quite heavy and bulky to an extent. In this respect, it is not suitable for the user who is conscious of being compact. You can be assured that every inch of the P2 is at work to optimize power performance of your system though.
It is housed in a fingerprint-proof black matte casing with a punched out fan vent allowing for easy air circulation and cooling as well as a stand-alone look. The rear features an Eco switch which further silences the beast.
While you may not use all the power of this goliath. It performs wonderfully well and represents a certain badge of honor among owners.
Corsair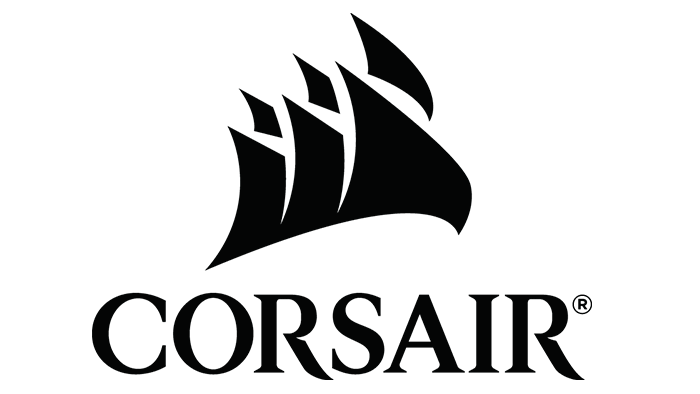 The next products we will look at come from another industry leader. American firm Corsair have been producing top of the range peripherals for more than 20 years and they are another strong force in the PSU market. Producing some of the best quality PSUs year on year, let's take a look at their strongest offerings to suit your needs:
Corsair CX600M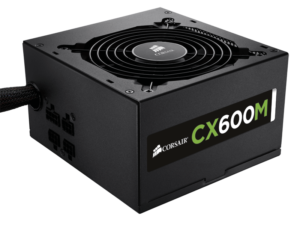 The Corsair CX600M offers a fantastically powerful choice. Even better is that it is more suitable to those staying within a budget, while not compromising on performance.
The CX600M offers an excellent option for running a mid-range system. Its efficiency level is 80 Plus Bronze and it also provides excellent ripple management and a continuous running temperature of up to 30 degrees on full power. The single +12V rail of the CX600M can easily handle performance of a mid-range system.
The modular cables of the CX600M are flat and stealth, using only black color wires. They allow for relatively easy cable management and allow for cabling to remain quite discreet.
The CX600M is a compact choice In terms of design also. It sports a scratch resistant, black matte finish. The punctuated fan vent is on the top side with the fan facing upwards. Given the fact that the power switch is located at the rear, above the AC input, this will restrict how you can position the CX600M for maximum convenience.
This model represents great value for the budget conscious, mid-range user. It also comes with a three-year warranty so you can be assured of its durability. It is worth string consideration for those on a budget.
Corsair AX1500i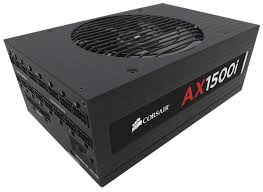 On the other end of the spectrum, both on terms of price and power is the Corsair AX1500i. This giant is the top of the range offering from Corsair and it certainly packs a huge punch. It is amazing efficient throughout the entire load range and also delivers full power with ease at temperatures up to 49 degrees.
This staggering beast from Corsair is more than capable of running even the most intense, power hungry systems. It certainly is not for the faint of heart. However, nor is the price.
It reaches an 80 Plus Titanium certification for efficiency which is staggering due to its size. It also features a fully nodular cable design and comes with an abundance of connector cables to satisfy all needs.
Through Corsairs Zero RPM fan it is also remarkably quiet in its work. As you would expect, the AX1500i is anything but compact. It is enormous, but that is not surprising given the level of performance it is capable of delivering. It features ridged black panels with the fans positioned at the top of the unit and power switch and Ac input to the front.
Its digital operating system also allows for self-testing of the system itself. The AX1500i is a true giant in the market and perfectly suited to high level systems operating at an insanely high capacity.
Thermaltake

Thermaltake is the final brand we will examine in this piece. The Taiwanese firm have been mainly involved in the peripheral market since 1999 and have positioned themselves well on the principles of high quality and sustained performance. Here is a look at one of their best quality products:
Thermaltake Smart M750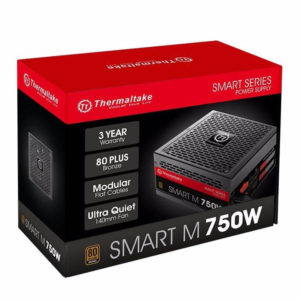 The final product in our review of the best available PSUs is the Thermaltake Smart M750. This strikes a balance between the super powerful beasts and those more suited to mid-range operation. The M750 offers excellent power along with a compact design and relatively good efficiency ratings.
It is capable of running intensive power systems and delivering a high quality ripple suppression. It also performs very efficiently in standby mode with a remarkably low power usage.
The M750 has an 80 Plus Bronze rating for efficiency which is quite good relative to its power. It also operates on full power in temperatures of up to 50 degrees which is very impressive. It operates from a single 12V rail which can deliver almost its full power.
From a design perspective the M750 looks attractive and eye-catching with its orange detailing. It is housed in a high quality, matte black unit with fan grill to the top. The Thermaltake badge positioned on the center of the fan grill also adds to the slick visual appearance. It also has modular cabling which is very neat and adds to the convenience for the end user.
The Thermaltake Smart M750 offers a wonderful compromise between value and extreme power. It is more than capable of running a very high intensity system with ease and reliability. It also comes with a three-year warranty as standard, meaning that any unexpected issues can be easily resolved.
Overall the Thermaltake represents a great investment for those who want a slick and powerful PSU capable of handling anything their system throws at it. It is also more than capable of handling future system upgrades when necessary. The M750 is a good long-term PSU choice.
Final Thoughts
As we have discussed in depth, the importance of a powerful and reliable PSU for your system can not be overstated. That does not mean you have to break the bank. As well as some of the elite, high performance units we have looked at, there are also others which represent great value.
Regardless of your desired performance level or budget, it is worth the time to investigate purchasing a high-quality PSU. Check out Amazon for the best prices on the above products and many more top quality Power Supply Units. There is something available to fit all needs.