Monitor arms are a great way great way to adjust the positioning of a monitor when the tilt feature on the stand just doesn't cut it. They are also the best way to clear the clutter of wires and a space saver because you don't need to rely on a stand anymore.
Most modern monitors have VESA mount capability.
What is VESA mount?
The VESA mounting interface also is known as the flat display mounting interface is a standards certification outlined by the Video Electronics Standards Association for mounting of flat panel monitors and television screens.
Most VESA mount systems have four screw holes set out as the square on the mount with matching holes on the monitor. To confirm it is compatible with your monitor you can merely look up the model no. of your monitor and check the spec sheet to prove it supports the VESA standard. Such compliant brands include HP, Samsung, ViewSonic, and Ergotron.
Part Type

Display Size

Pattern sizes
Screw size
Diagonal,
minimum
Weight,
maximum
Thread
Length
excluding bracket
MIS-
(in)
(mm)
(kg)
(lb)
(mm)
(mm)
B
4
102
2
4.4
20 by 50
M4
4.0
C
8
203
4.5
10
35 by 75
5.4
D 75mm
12
305
8
17.5
75 by 75, 50 by 75
7.4
D
12
305
14
30.8
100 by 100, 50 by 100
7.4
E
23
584
22.7
50
100 by 200, 50 by 200
7.4
F M6
31
785
50
110
200 by 200 and up
M6
9 / 10 / 12
Courtesy: Wikipedia.org
VESA mounts are specified in variants. Such variants include labels such as VESA 50, VESA 75, VESA 100, VESA MIS-E, and VESA 200.
LG, Samsung, Sceptre, Viotek, Acer, and Dell are brands that have some of the most popular 34-inch monitor models on the markets today. These usually display panels that are curved. For example, the LG 34UM60 is an ultrawide Freesync monitor.
It specifically has a 100 by 100 mm pattern size, so it falls under category D. Bear in mind that monitor arms are not the same as wall mounts but are very similar and still follow the VESA standard.
Is the AmazonBasics Premium Monitor Arm A Good Choice?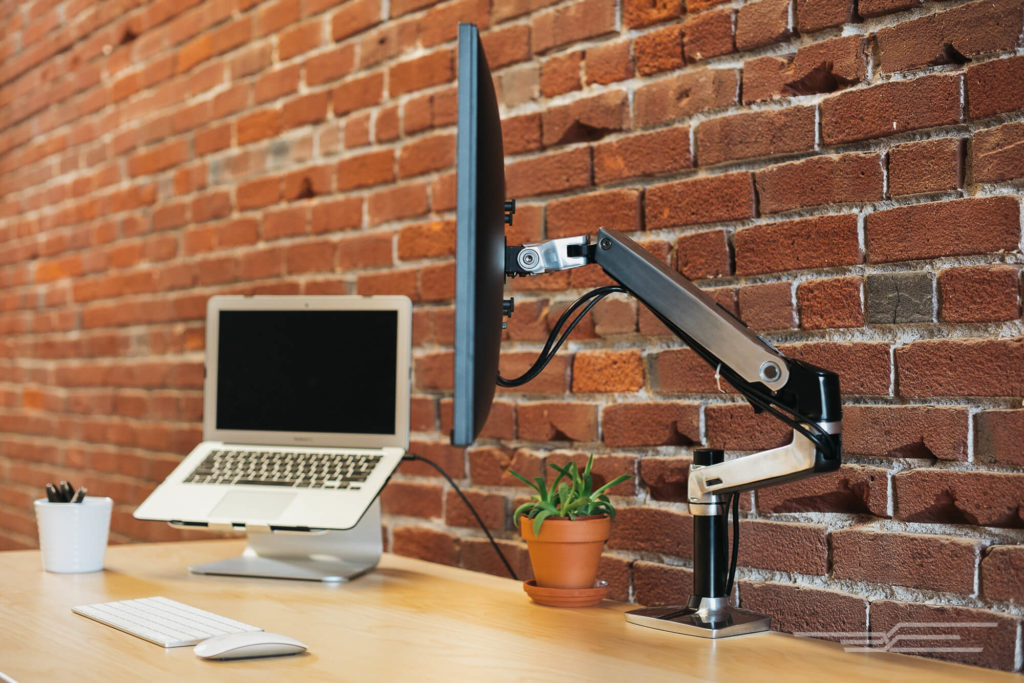 The AmazonBasic product pipeline was launched just a few years ago. This arm has been favoured by tens of thousands of consumers that have gone and ordered it from Amazon.com. There are many configurations which you can purchase such as the dual monitor with a standing desk, dual monitor with a single monitor, single monitor for the wall, and a single monitor with a standing desk.
The single monitor arm tits 70 degrees backward, and 5 degrees forward, giving you the ultimate customizability. Best of all you can change the positioning of the arm to fit landscape or portrait mode.
We wanted to mention this AmazonBasics monitor arm because it has been recommended by many blogs and websites on the net, but the truth is that it only supports monitors up to 32 inches in size. You can see the arm price here
Best Monitor Arms for 34 Inch Ultrawide
Here is a list of the 3 best monitor arms for 34 inch ultrawide display screens.
EchoGear GM1C Monitor Arm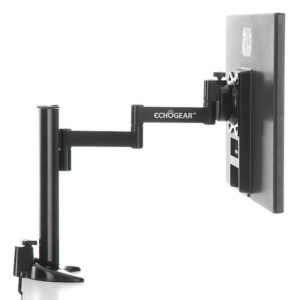 The EchoGear GM1C is good for mounting a single 34-inch monitor to a desk. It has a control swivel of 90 degrees that gives tilt adjustments of +/- 15 degrees.
It also extends up to 13.25 inches into the air as a height adjustment. There is a weight limit of 35 lbs so ensure your monitor complies with this restriction.
The EchoGear desk mounting system enhances your display in the way a desk stand cannot do. You can switch between portrait and landscape mode.
Its also a significant space saver built with a wobble-free clamp, droop-free zone, and adjustable tension that lets you customize the arm action for your setup.
Have you ever had a triple monitor display with three curved monitors? It's like a circle engulfs you in the most immersive gaming experience you can imagine.
Well EchoGear, has a triple monitor arm stand too, so check that out if you are interested. The price can be seen here
Loctek Monitor Mount Heavy Duty Monitor Arm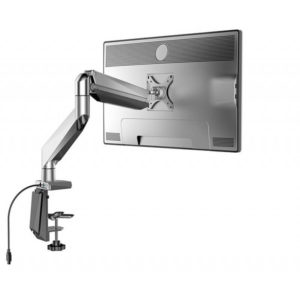 This is a very sleek looking monitor arm with its chrome metal design. It can support monitors between 10 and 34 inches up to 33lbs. Ergonomics was what
Loctek had in mind when designing this arm because you can easily adjust the monitor to a position that reduces neck, eye, and back strain. It can extend up to 23.5 inches forward and 21 inches into the air. The adjustable tension setting with the included Allen wrench makes the mounting more stable and secure.
It also supports rotatable VESA plate patterns. For boosted connectivity, you get microphone, audio and USB ports. See price here
North Bayou Mount Stand for up to 35-inch displays.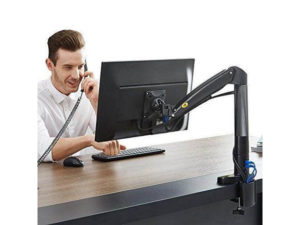 The North Bayou monitor desk mount stand is a swivel monitor arm that uses a gas spring and supports screen sizes up to 35 inches. The drawback to this arm is that you are limited with how heavy your monitor can be. It's only 19.8lbs maximum.
It is VESA compliant and supports 75 x 75mm and 100 by 100 mm variants. You can tilt + 8 degrees and – 55 degrees for maximum adjustability.
Moreover, there are two USB 3.0 ports. And, it will lift 13.5 inches into the air and 27.5 inches back/forward. The integrated cable management system lets you route all your monitor wires through the arm so that no unsightly entanglements is taking up space in your work station.
You have two options to mount the monitor arm; C-clamp or grommet mount. The C-clamp affixes onto the edge of a desk whereas the other installation option supports the grommet hole on your work station. If you want more info on this arm, see here
Conclusion
In conclusion, we gave you the details on VESA mounting specifications, advised you on what to stay away from, and gave you 3 of the best monitor arms for 34-inch ultrawide displays.
If you found our article even slightly helpful, return the favor and leave us a comment showing your appreciation. Better yet, share us on social media to boost our exposure to the monitor community.