While researching the best video editing monitors, we came to learn just how much of an impact the monitor you use have on your editing capabilities.
Video editing is one of the most essential aspects of the film industry. This is a combination of different scenes in an artistic and creative manner to develop and film In order to accomplish this you would need a number of tools, with the monitor being among them.
Any video editor requires a screen that will allow them to see what they are doing. A video editing monitor should be one that will display the right color so as the editing can be seamless. This article is meant to serve as a guide to facilitate in finding the best monitor for video editing.
Video editing monitors should have some specifications and features, which will aid the process. With a monitor that provides the right color, you will have an easier time making corrections and the result will be spectacular. There are so many monitors that are on the market, but not all of them would qualify as video editing monitors. You would need to understand what to look for when shopping for a video editing monitor.
Best video editing monitor – Which monitor is the best
Benefits of Video Editing Monitors
• The IPS technology is one of the greatest benefits with these monitors. They will provide accurate color reproduction and will offer a wide viewing angle. • With the video editing monitors you will not have to worry about ghosting and blurring as it will eliminate all the darkening effects. • Wide color gamut provides you with enhanced color accuracy.
There are billions of colors that will be available for use. • Video editing monitors have thin bezels, which will make it easier to mount video walls or work with multiple screens. Video editing monitors come with amazing specs and features and this is what makes them versatile. With the great functionality that they possess, they can be used by professional video editors, photographers, graphic pros as well as avid gamers.
You will find them to be a worthwhile investment since they are able to retain the true color from different viewing angles. This is as a result of having the IPS panel technology as one of the key features.
Cons
Here are some of the cons that are associated with the video editing monitors: • The cost is rather too high for most people, which is a great disadvantage for those who cannot afford such monitors. • They tend to take up too much desk space. This may force you to find additional spaces for other tasks. • Some of the brands will have defective analog buttons. This will frustrate the access of various menu items.
It is worth noting that some drawbacks will be true for some brands and not all. It is therefore imperative to compare various models and brands, to find one that will suit your needs.
Features to Consider
Response Time: You should go for a monitor that has a response time of at least 7ms. A video editing monitor should eliminate any ghosting or blurring effects. This refers to the pixel response time, which is the measure of the time that it takes or the active black to transition to inactive white, then black. A low pixel response time will give you accurate results.
Type of Panel: Most of the conventional monitors have a TN panel, which may be somewhat limited in terms of functionality. When shopping for a video editing monitor, you should consider one with IPS panel technology, which will enhance color precision from any viewing angle. IPS refers to In-Plane Switching, and has a wide range of up to 1.7 billion colors. It is also enfolded with 8 to 10 bits that will achieve perfect results. The TN panel is inferior in color accuracy.
Color Efficiency: You can never compromise on the color accuracy when editing your videos. As such you need to find a monitor with a wide color gamut, with a 100% coverage sRGB and Adobe RGB coverage of 99%. You will realize that monitors with a wide color gamut are quite expensive, but they will deliver exceptional color reproduction.This information provides some insight on the features of video editing monitors.
With such knowledge, you can easily find the best video editing monitor on the market. We will review some of the top brands that we found, which you may consider purchasing.
Top Manufacturers
There are quite a number of video editing monitor brands and models. Some of the top manufacturers that we found include: • Samsung • Dell • LG • BenQ • ASUS • Lenovo • ViewSonic
Reviews of the Best Video Editing Monitors
Having looked at the various features and attributes that one should consider when buying a monitor for video editing, we know that it can be a daunting task for most people. We have gone out in the market and looked for the various brands that have proved to be effective for most professionals in videography.
The monitors that we have listed below are to be used as a guide to finding one that will serve your purpose effectively. Here are some of the best video editing monitors that you may want to consider, when shopping for the best video editing monitor.
Samsung S34E790C Monitor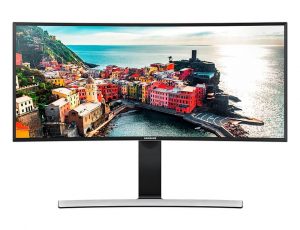 Samsung has been a leader in the market as far as innovation in technology goes. This monitor comes with curved screen, which is designed to match the curve in your eyes.
This will provide a comfortable viewing experience. The Samsung S34E790C has an ultra-wide screen with an aspect ratio of 21:9, and a classic curvature. It has been rated as one of monitors with an immersive viewing. The choice of this monitor for video editing will provide you with vivacious picture quality and an enhanced viewing that is comfortable for all your projects.
It has Wide Quad High Definition of 3440×1440, which will enhance the image quality displayed. The ergonomic stand is quite flexible and supports VESA mounts. You can adjust and tilt the stand to suit your preferred height. There are 4 USB ports, which will provide access to various gadgets that you may desire to connect to the monitor.
The overall design of the monitor is quite appealing and it will certainly boost the productivity levels in your tasks. The picture-by-picture feature will allow you to split the screen so as to enjoy multi-source viewing.

Dell UltraSharp U2415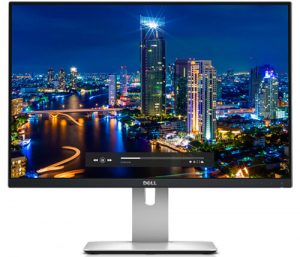 This is one of the most affordable professional monitors that can work for video editing. It has a superior performance in that it will provide accurate color and vibrant pictures that are vivid. With the borderless frame, this monitor would be ideal when you want to set up multiple monitors.
The flexibility of the stand is quite useful since you can swivel, tilt and even pivot it to your desired position. You can enjoy a 90-degree rotation, both clockwise and anti-clockwise, which will allow the monitors to be placed side by side. The Dell U2415 will connect easily with other peripherals and deliver uncompromised video quality.
It comes with USB 3.0 ports, which can be used for charging or powering devices. It also has HDMI ports for versatile connectivity. You will easily connect handheld devices to the screen and enjoy its functionality. This monitor has been rated as one of the most eco-efficient monitors.
The consistency in the colors is quite amazing and this is what will provide a great viewing experience, without having to pay too much. The monitor has a 99% sRGB coverage at deltaE<3. The 24-inch screen has a 16:10 aspect ratio, which will enhance the clarity of the display across the ultra-wide angle of 178 degrees. This is a great monitor for those who are starting out in video editing.

Asus PA248Q Monitor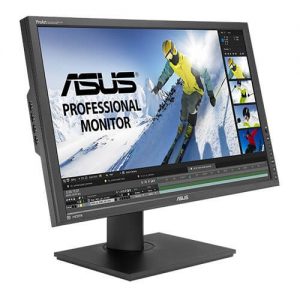 Are you looking for true color and a spectacular monitor for the purposes of editing videos? Then the PA248Q is the right choice as it comes with professional-grade color reliability and precise color production. This is one of the ProArt LCD display monitors by ASUS. It delivers a 100 percent sRGB color reproduction on the optimal HD IPS panel with 16:10 and 1920 x 1200 ratio and resolution, respectively.
It has over 16.7 million colors to display, which means that you will get the right color in all your projects. The monitor weighs only 22 pounds, and has a thickness of 9 inches. It is factory calibrated and this will make it easier to use for all your tasks. It has versatile connectivity options featuring 4 USM 3.0 ports, DVI, VGA and 2 HDMI ports.
The monitor has a 6ms response time, which will eliminate the ghosting effect and also reduced screen darkening or blackening. You will enjoy a wide viewing angle of 178 degrees on both the vertical and horizontal angles. All these features make this monitor the perfect choice for any video editor, who wants to achieve quality results.

LG UM67 29UM67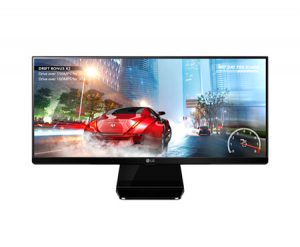 The LG Electronics UM67 29UM67 has an ultra-wide aspect ratios of 21:9, which will support any professional video editing software. The 29 inch monitor runs on a 2560 x 1080 pixel resolution, which will offer a real display for all your videography projects.
You will not strain working using this monitor since you can view the screen from different angles, and still enjoy a great viewing angle. It has 8 bit color support, which can display 99 percent sRGB. With a response of 5 ms, the pixels will not nag you when you are toggling between several scenes.
This is super fast response time will significantly reduce any blurring or ghosting effects. The monitor comes with a split screen feature, which allows you to work on several tasks at a go. It also has a dual controller and IPS technology, which will enhance the display detail. The brightness of the screen is 300 cd/m2, and as such, all images will be vivid and clear.
The monitor comes with a manual, which is advisable to follow so as to make full use of it. Some of the functions will only be accessible when you read the user manual that it comes with.

BenQ SW2700PT Monitor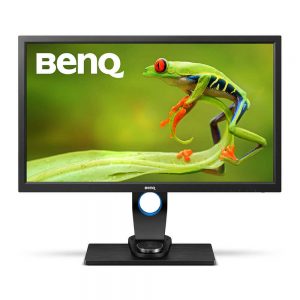 While this monitor is considered to be quite expensive, it is the essence of professional video editing. It has a wide color gamut that covers 100% sRGB and 99% Adobe RGB color gamut. The 14 bit LUT facilitates the high definition of color accuracy. This is what makes it ideal for video and photo editing as it will allow you to see any image or scene in its original representation.
This is a rare feature of this monitor and any professional video editor will know its worth. The monitor has a WQHD high 2560 x 1440 resolution, which is supported by the 20 million: 1 dynamic contrast ratio. The Palette Master Element is what will make it easier to calibrate the display on this monitor.
You will be able to adjust and still maintain the high color reproduction in your video editing. You can use the various digital inputs to connect and collaborate with various devices and peripherals. The ergonomic display entails exquisite features like the shading hood and a thunderbolt. There is an eye protector sensor, low blue light and a zero flicker, which are part of the exceptional feature on this monitor.
You will adjust the stand to your desired height or angle, depending on the specific task at hand. If your budget allows, this is the right monitor to go for video editing projects.

Conclusion
As you have seen from the reviews above color accuracy is what really matters in video editing. Therefore, when you are looking for the best video editing monitor, you should pay keen attention to the color reproduction. You have the option of picking the ultra-wide or non-ultra-wide monitors.
Most video editors prefer the ultra-wide display since it provides a wider view and saves on the workspace. At the end of the day, it will all depend on your individual needs since there are so many unique video editing monitors. Consider all the factors that we have highlighted above. Please ensure that you settle for a monitor that will offer a wide color gamut for video editing. We do hope that this will serve a guide for you to find the best video editing monitor.