The Monitor Monitor participates in the Amazon Affiliates program and may receive a small percentage of a sale at no extra cost to you when you click some links on our site
Today, the Mac Mini has become a popular choice for most people who find the Mac PC to be too expensive. However, the size of the screen can be quite limiting and this is what would force you to look for an external display.
Thunderbolt Display is a monitor that is made by Apple and besides being too expensive, it seems to be obsolete. There are so many other monitors that will work with your Mac Mini, for a much lower cost, and will be efficient. Mac Mini comes with two ports, which you can use to connect an external monitor; Mini DisplayPort and HDMI.
When you are shopping for a monitor for your Mac Mini, these are the connectivity options that you should pay attention to. However, you can also buy adapters to expand the connectivity options available for you.
Benefits of Monitors for Mac Mini
Using the Mini DisplayPort and HDMI will ensure that you get quality pictures. The display is usually has deep colors, very bright and has a high contrast ratio. This will make any presentation appear clear and vibrant.
The initial set up of connecting an external monitor to your Mac Mini is quite simple and will not take much of your time.
A monitor for your Mac Mini will increase your productivity level, since you will get a wider display screen.
Monitors for Mac Mini will make it possible for various professionals to use the Mac, effectively; these include photo editors, videographers and graphic experts.
With the rich colors and improved image per pixel, the text is clear and all the images are sharp, which minimizes the margin of error on tasks being worked on.
Cons
There are a few drawbacks that are associated with external monitors for the Mac Mini. Some of the key challenges include:
When you have a wide display, you may easily lose the cursor of the mouse and this may affect your productivity.
Since you will get a very large display area, the cursor movement will increase, from what you were used to. This may also be tiring.
The monitors that will work with a Mac Mini will require HDMI or DisplayPort connections, these monitors are quite expensive.
Technology keeps advancing and as such there are improved models of monitors coming into the market. When shopping for the best monitor for your Mac Mini, ensure that you consider the pros and cons so as to make a good decision.
Factors to Consider
Before making a decision on the particular monitor to buy, there are a few considerations that you should bear in mind. All monitors may appear to be the same, but you will be surprised to realize that they have vast differences. Here are some of the key considerations:
Display
You will need to choose between Liquid Crystal Display (LCD) and the Light-emitting diode (LED) displays. LED monitors are lighter, slimmer and will consume less energy as opposed to LCD monitors. They also provide a higher contrast and will not emit mercury.
Type of Panel
Any monitor will either have the IPS or TN panel technology. The TN panel refers to the twisted nematic panel, which is common in most LCD screens. Such panels use less energy and have a fast response time. These make them a great choice for movies and games.
IPS panels are known as In-Plane Switching monitors, which have great color reproduction. They are ideal for photo editing and other graphic works. The IPs technology will provide you with a greater viewing angle, but the response time is slow.
Response Time
The type of task that you will be using the monitor for, will determine the response time to go for. As mentioned above, TN panel monitors have a faster response time than the IPS monitors. However, the color is rich in IPS monitors, which is ideal for professional photo and video editors. For gaming and movies, a TN monitor would be suitable.
Resolution
The Full high definition is 1920 x 1080p and as such you need to find monitors with Full HD. There are monitors that surpass the Full HD resolution; like the Thunderbolt Display has a resolution of 2560 x 1440.
Input Options
Mac Mini will connect to monitors through the HDMI or DisplayPort inputs/output connections. Ensure your monitor is compatible.
Top Manufacturers of Monitors for Mac Mini
Dell
LG
AOC
ASUS
Acer
HP
ViewSonic
Planar
Samsung
Review of the Best Monitors for Mac Mini
Confusing as it may seem, at the end of this article you will be informed on how to go about purchasing the best monitor for Mac Mini. Below we have picked some of the best monitors that would be ideal for your Mac Mini, to serve as a guide on some of the features they entail. Although they may appear to have the same features, they are unique in various aspects.
Dell U2415 UltraSharp Monitor
If you are a photo editor or work in the graphics profession, this is one of the best options available on the market. It is relatively cheap and has a high level of performance. It is virtually borderless, and this will give you an extensive viewing area. Most people who set up video walls prefer such models with a slim profile.
 The monitor will work perfectly with your Mac Mini and give you a great comfort level. It is fully adjustable and this allows you to adjust the height, tilt, swivel and even pivot to 90 degrees, both clockwise and anti-clockwise. When you connect this monitor to your Mac Mini, it does not compromise the quality of the picture and provides a great vertical resolution.
You will enjoy great color details since it has a color depth of up to 16.78 million colors. The PowerNap feature works with the Dell Display Manager to regulate the brightness of the monitor. When not in use, this is the feature that will put it in sleep mode. Check the price here
HP Pavilion 27xw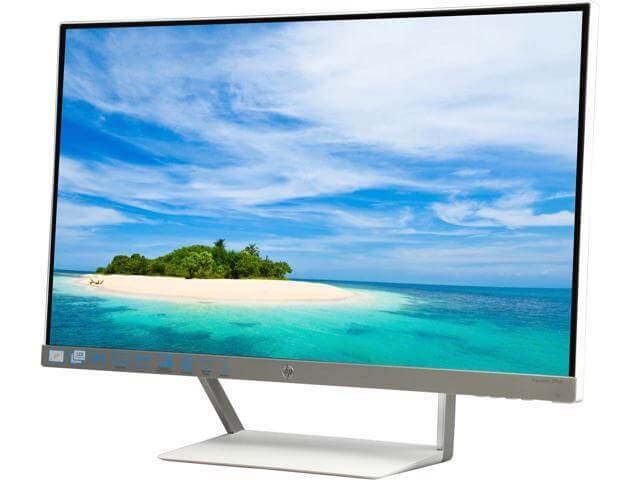 The HP Pavilion 27xw is a great monitor for semi-professional tasks. It will work well with your Mac Mini and seems to be an all-rounded monitor, which measures 27". It is very easy to use this monitor as it comes with simple buttons beneath the screen, which will provide you a convenient access to the menu.
The anti-glare panel is a feature that is designed to protect your eyes, when you need to work on the monitor for extended hours. This monitor has a response rate of 8ms, which may not be ideal for gaming activities. It has an IPS panel technology, which provides you with rich color and a vantage view point for everyone in various angles.
It comes with 2 HDMI ports, which you will use to connect your Mac Mini. This HP monitor has expansive and colorful radiance, with a dynamic LED backlit display. It has a Full HD 1920 x 1080 resolution and a 10 million: 1 dynamic contrast ratio. Irrespective of having a wide display area, the color reproduction is consistent all through. You can check the current price here
Asus PB278Q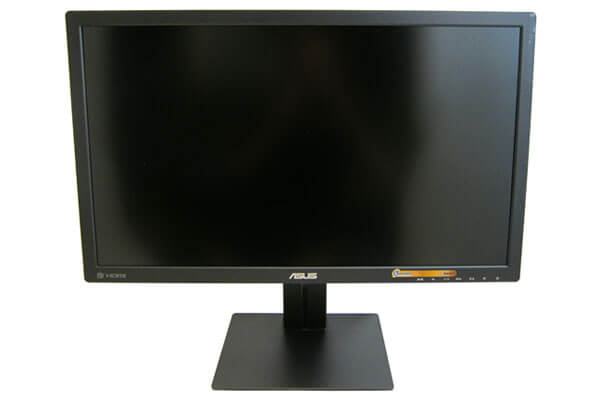 If you thought that Full HD was the best resolution that you can get, then you have not met the Asus PB278Q. This monitor has a pixel resolution of 2560 x 1440, which is four times the normal Full HD. This is why it provides visuals that appear to be real on the 27-inch display area.
This is also supported by the user-centric features like the 100% sRGB and the 178 degrees viewing angle. When you need to connect this monitor to your Mac Mini, it will be easy and straightforward. It comes with Dual-link DVI, DisplayPort and HDMI connection ports.
The ASUS Eye care technology integrates the Flicker free feature on the screen, which will reduce your eye fatigue. The monitor comes with an ergonomic stand, with an option to mount on the wall. You can adjust the monitor by swiveling, tilting, pivoting or adjusting the height.
What you see is what you get, thanks to the Splendid Video Intelligence Technology and QuickFit Virtual Scale. The screen is loaded with versatile features, which will improve productivity when using your Mac Mini. See latest price here
ViewSonic VX2776-SMHD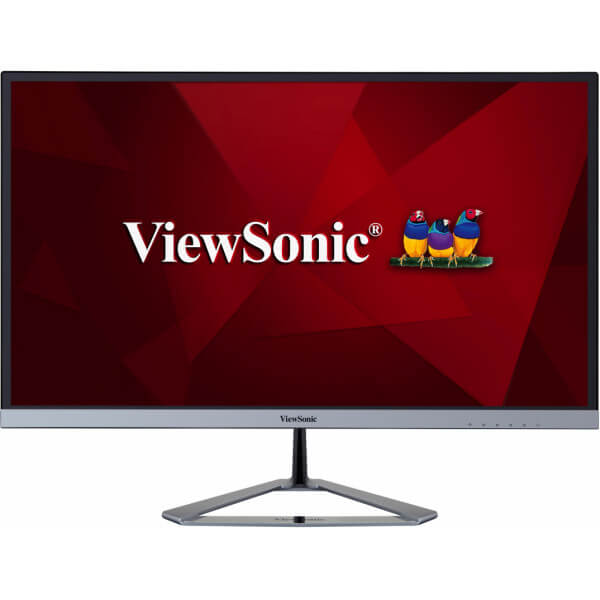 The monitor is stunning and has an appealing design. The ViewSonic monitor is affordable and will work perfectly with your Mac Mini since it has HDMI, VGA and DisplayPort connectivity.
It is a Full HD 1080p monitor that runs on the IPS panel technology. This explains the super clear images that you will view on the screen and the vantage point of view that allows you to work from any angle. The monitor has an ultra-slim panel that does not have a frame; it is borderless and as such can be easier to connect several monitors seamlessly.
There are two integrated speakers on the monitor; this makes it an ideal choice for playing video files or even video chats. With the Blue Light Filter and Flicker free technology, your eyes will be protected even when you are forced to look at the monitor for extended periods. This monitor may be ideal for casual tasks when you are using your Mac Mini, but may be limited in professional tasks like editing or graphic design. See price here
Planar PLL2410W Monitor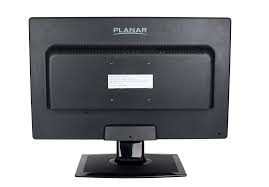 Last, but not the least on our list is the Planar PLL2410W, which is considered to be the cheapest monitor on the market, of its kind. It is a 24-inch edge-lit LED LCD monitor, which will work well with the Mac Mini. It has a slim design that will not take up too much space and will conserve energy when in use.
Besides the low price, the monitor has amazing features that allow it to perform as other superior monitors. It has a Full HD 1080p resolution and a fast response time. You can mount the screen as you would like since it is compatible with the 100mm VESA mount standard. It offers VGA and DVI-D port as the connectivity options, which is considered to be a challenge for the Mac Mini connectivity.
You will need to buy a VGA to HDMI adapter so that you can connect your Mac Mini to this monitor. Ultimately, the monitor will serve the purpose it is intended for and the good thing is that you will not be forced to spend a fortune. This is a great option for all Mac Mini users, looking for an external monitor. Check price here
Conclusion
There you have it; finding the best monitor for Mac Mini should be much easier now. You will realize that most of these monitors that work with the Mac Mini are almost similar. It is important to look out for the distinguishing features.
When you find one monitor that seems to suit your needs, compare with others in the same range and you may end up spending very little, and still get a great monitor. Be keen on the features that we highlighted above and if possible check out reviews from other users with a Mac Mini.
At the end of it all, you will certainly a monitor that will work perfectly with your Mac Mini and improve your productivity. Best of luck in your shopping journey!