The Monitor Monitor participates in the Amazon Affiliates program and may receive a small percentage of a sale at no extra cost to you when you click some links on our site
There is an ongoing debate whether you should go for a standard TV or use a projector for your conference room meetings in the upcoming season. Both of the options have advantages and disadvantages, but today, we will be speaking about the best TV for conference room monitor and which is the best for your meetings.
Note that if you already have a healthy and working TV at home, it has great chances that it will work well when used in the conference room.
There is a difference when it comes to comparing your home TV and the TV that you want for your conference room. The conference TV's have a brighter screen and are created to have an easier interface which is user-friendly.
There is another really important factor, and that's the size of the conference from where you want to be using the new TV. Usually, the home theatre TVs are a lot smaller than the conference TVs as they are intended to be seen from afar greater group of people.
The size is not the only thing, as quality beats everything when you want to choose the right television for your conference room. You want your TV to be with high materials as it's intended to be a business tool which should work the entire time smoothly.
Luckily for us, there are more and more changes to the television, and new companies are continually finding new ways of creating better and better TV.
The size has changed, and you get a lot more for the same amount of money that you would get a few years ago. The Organic Light-emitting diode (OLED)are now in practice, and a considerable percentage of the new televisions come with a 4k resolution.
Let's see our top choices when it comes to picking the right television for the conference room.
The VIZIO D50u-D1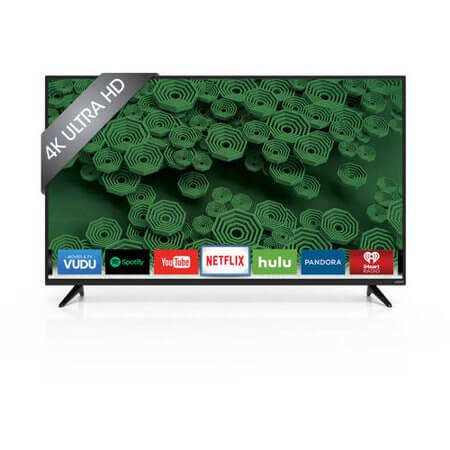 If you want to go with a TV where the picture quality is their strongest ace in the sleeves, then any of the VIZIO D-series should do the trick. There is a quick connection to the latest Android devices, and they cope with some of the high-tech televisions regarding the resolution of the screen.
There are several advantages and disadvantages to this television as well. While it has a great screen and it can update apps with the Google Cast system, it doesn't perform well if you want to broadcast the signal as there are no built-in tuners.
If you decide to go for this television, you will receive an HD and FULL HD 1080p resolution over a board which is not that tiny but still a lot less bulky compared to some of the high-end televisions, and guess what – it has a stand in the standard packaging.
If you want to use it for gaming or something with similar graphics which you wish to present to the office, it's an outstanding choice. The prize is drastically lower than the companies offering the same or similar options and features, and the design is something which you can brag with when you have some clients over. You can check more info here
Sony XBR75X900E
Maybe the Sony XBR75X900E is not only the best TV that you want to use in your conference room, but there is still something this TV can offer since it found its place on our list, right?
This is a smart television, and you can have thousands of apps connected to it through the Sony Android TV application which should do wonders for your team.
There are four different screen sizes which are another plus for this television, as we already stated that the size of the tv should be proportional to the conference room. You can choose from 49-inch, 55-inch, 65-inch to a 75-inch and all of them have Ultra HD 4K Resolution and 4K X-Reality Pro clarity.
The screen is one of the most useful when it comes to dark scenes, and if your work relates a lot to this, you should go for this screen. It enlightens the image and makes it as visual as ever with the 5-time X-tender Dynamic Range Pro Viewer.
Let's not forget to mention the X1 4K HDR processor where your image will be more enhanced than you ever imagined, and there is an Amazon Alexa as well as full-array diming and boosting, which are more things that fall into the advantages basket of the TV. There is a Triluminos display which means you can see more colors in combination with the MotionFlow XR 960/120 Hz. Learn more about it here
Samsung MU8500 Curved Ultra HD Smart TV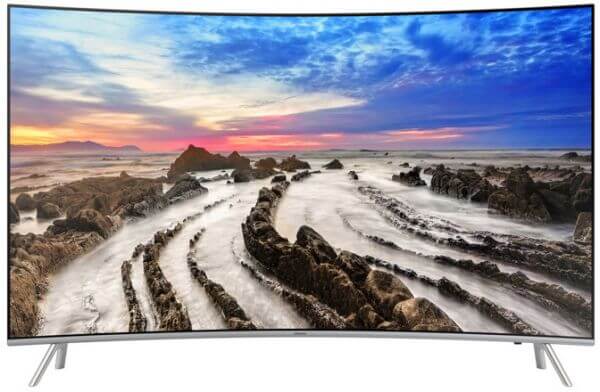 Last but not the least in our list is the Samsung MU8500 Curved, which according to us is the best monitor for conference rooms. This monitor has a latest 2019 edition which is Ultra HD smart TV. There is a noticeable contrast between the dark and light colors which is there because of its 4k Color Drive.
The shades have never been more purely displayed, and it has even more options than a standard 4k UHD display. The Triple Black makes you fall in love with the dark scenes, offering a world you have rarely seen before. There is a fluid motion with a 240 rate, making everything as fast as the Flash.
All the wires in this television are clutter free which means they are packed with the new Samsung Clean Cable – they start from the base of the stands and are perfect for navigation. The remote controller automatically detects the TV and programming is a thing of the past here.
With one separated box, you will connect all of your wireless components, and you can access the TV with your favorite Samsung Smart Hub application. Shop online, stream and use this TV as a personal computer on its own. Check it out here
Conclusion
There you have it guys, it's our best choice for a conference room TV, and if you ask for our personal opinion, we will go with the last Samsung MU8500 Curved Ultra HD Smart tv that was released in 2019. It all depends on your budget, the size of the room and the nature of the business that you want to use the TV for, so do your homework and pick up a beast for your conference room!