The Dell DE2416H is a 24-inch screen monitor that is very affordable. We will review its features and decipher whether this monitor is a good choice.
Affordability
This in large part is a very affordable monitor because it was mass-produced by Dell to sell to the average consumer. The MSRP is around $120.
Viewing Experience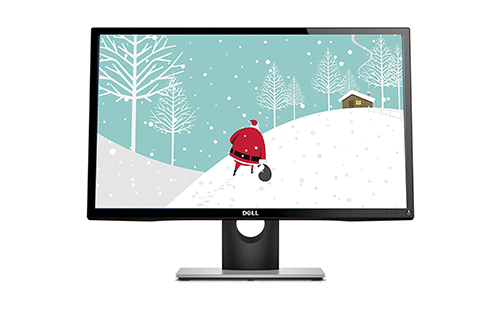 Crisp. Crisp is the word that comes to mind to describe the visuals experienced from this monitor. It has a 16:9 aspect ratio. Furthermore, Dell has implemented a thin bezel design, but honestly, I still found the frame to take up significant space on the monitor display.
This is an IPS color so it can theoretically be used for gaming purposes but by no means is the refresh rate or the screen tearing technology (doesn't have one) adept for heavy gamers. This is your general office task monitor which can accommodate video viewing.
It is easy on the eyes which I am guessing is in part due to its 3H antiglare hard coating. The monitor looks more full from the back than it does from the front.
Pixel pitch is 0.2745 so the closer you'll sit to the monitor the more vibrant the color/contrast will appear. Brightness is the standard 250cd/m2. The contrast ratio is higher than competing monitors with the powerful being 8 million and static equalling 1000:1. Color support is also great because you get a 16.7 million color gamut.
This is a 60Hz monitor (refresh rate), and the optimal resolution is 1920 x 1080 full high definition. Response time is a bit slow at six milliseconds but shouldn't affect you unless you are playing some high-performance FPS game online.
Construction
The bezel is thin to some degree, but it doesn't annoy you because it's constructed from a sleek aluminum type material. You can tilt the monitor a considerable distance back and forth. The tilting does not affect the viewing experience because the IPS (in-plane switching) technology takes care of the viewing angle performance. The vertical and horizontal viewing angle are evenly matched at 178 degrees.
Display type is a widescreen flat panel with LED backlight technology. As a result, you get a more energy efficient monitor and as opposed to the cold cathode fluorescent lamps you get with LCDs, you have better uniformity and better dimming in dark and bright areas of the screen. Although backlit LED is not as great as your standard LED, it is still a new step Dell took to implement the backlighting when the price for this monitor has been set so low.
The stand is the main component when we discuss style and sleekness. If it weren't for this stand, I would have a thin black box. There is a hole in the center of the stand which is for both design purposes and for routing the HDMI or VGA cable.
The exact product dimensions of this monitor are 16.6 x 7 x 21.9 inches. That's one thing you may find irritating about monitors is that they measure the inch size that the market from a diagonal viewability aspect.
There is no arsenic in the glass of the monitor, and the LED panel does not contain mercury. The circuit boards are made from laminates that are PVC-free.
Connectivity
You cannot wall mount this monitor, so there isn't any VESA receptacle. You can connect it to the DELL D3100 Docking station which has been very popular to set up a triple monitor display. You can use it with an existing PC that may have a VGA port or connect it via HDMI for those PCs that are built for the future.
The OSD menu is easy to access via the buttons on the bottom bezel from where you can make the connectivity adjustment per your liking. You can also check out the review we wrote about DELL D Series with the LIT Monitor to learn more about Dell monitors.
Energy Efficient
Energy efficient, and environmentally friendly are two characteristics Dell went after with this SE2416H display. The PowerNap feature is great for saving on energy bills because it dims the brightness or activates sleep mode when the monitor is not in use. It also meets the latest regulatory and environmental standards from Energy Star which includes EPEAT, CECP, and TCO certifications.
Conclusion
This Dell se2416h monitor Review has put the best efforts forward to help you decide whether this monitor meets your needs. Although you're the only one that can make the buying decision for yourself, we do recommend this monitor for you if you need a general office task-oriented display screen with vibrant color contrast and wide viewing angles. If you need something more geared towards 'gaming power' consider a FreeSync or G-Sync monitor.