Are you a gamer who is always on the move? I know gaming and moving isn't the greatest combo. And, it really sucks! But lucky for you, numerous tech companies are trying their best to bring portable gadgets for people like you. Among them, the Hori portable HD Gaming monitor is a notable name.
For instance, they have one of the most popular portable HD gaming monitors. Yes, we are talking about their Hori Portable HD gaming monitor. When it came out, it got a lot of attention. But, is the hype real? Or is it just another flop like any other innovative gadgets?
Let's find out in this review down below…
Hori Portable HD Gaming Monitor Review
Design and Look:
From the distance, the Hori Portable HD Gaming Monitor mostly looks like any other tablets. It is a 15.6 inch display panel. If you are looking for a slim portable monitor then this is not an option, really. Why? First off, the monitor is bulky and has thick bezels on its 4 sides. If it was a touch screen monitor, then those thick bezels would be forgivable. But, for a non-touch screen one, the bezels are annoying.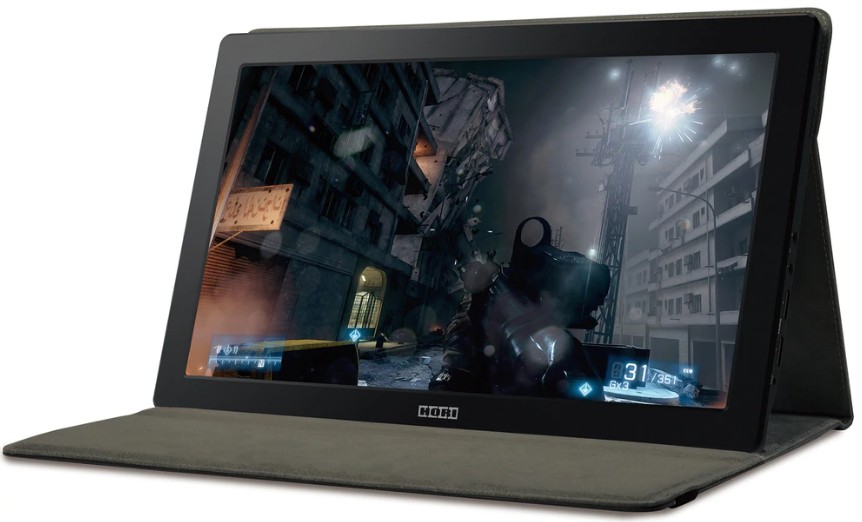 The thickness of the Hori Portable HD Gaming Monitor is 17 mm. Again, this is not bad generally. However, if you compare it to any other normal monitors or tablets, it is not that thin. The weight of this monitor is not that high. It weighs about 1190 grams. So, it is quite portable in terms of weight.
It comes with a rugged case which covers almost the whole monitor from all the sides. So, it is a great way to protect this monitor from accidental drops or something like that. The case doesn't cover the buttons, ports, and speakers even if it is closed.
On the right side of the monitor, you will find the connectivity ports. And, on the opposite side, there are the power and OSD menu buttons. In fact, we have liked this design idea. Because all the wires and cables will be on the right side and the left side will be clear to access the OSD and power buttons.
On the backside, you will find two screws. Because the cover is attached to the portable monitor with the help of these screws. It was a strange feature in our opinion. If you want to remove the cover completely, you will have to unscrew those screws.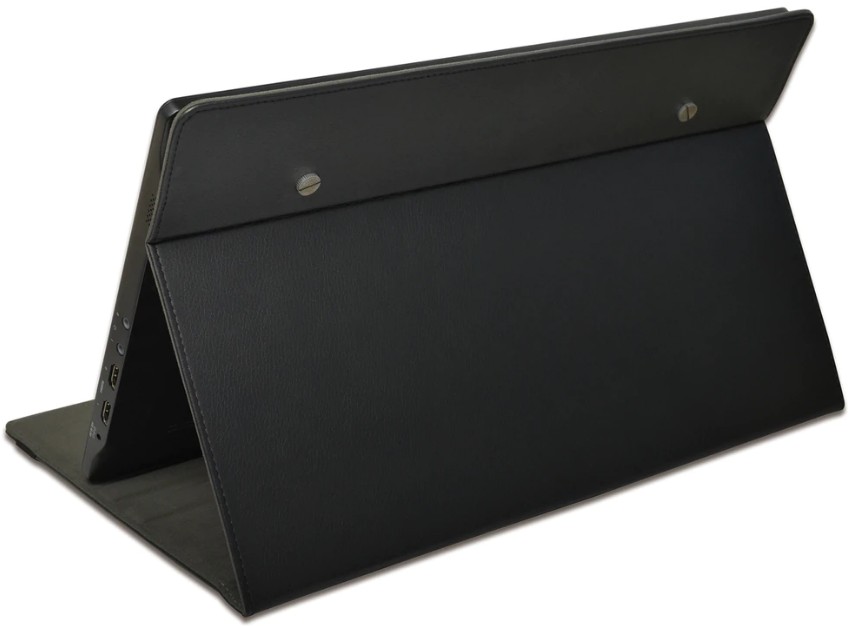 This cover is designed ergonomically. You can easily set the monitor in different angles with the help of the cover. For instance, you will need to position the monitor on any of the 3 pre-defined slots on the bottom side of the cover. These 3 angles are 108-degrees, 113-degrees, and 118-degrees respectively. And, you can also fold the cover completely inverted. In a way, the cover actually does its job quite well.
Image quality & Performance:
This portable monitor comes with a 768p resolution which means 1366×768 resolution. Now, in general, 768p resolution is not a problem. But when the screen size is 15.6 inches then 768p doesn't quite cut it in this time and age. So, there will be a pixelation and distorted image from time to time.
Next, we have the contrast ratio. This monitor comes with a contrast ratio of 400:1. Again, this is far from great. For instance, some of the basic monitors come with a 1000:1 contrast ratio. Another downside of this monitor is the brightness quality. The peak brightness of the monitor is about 180 nits. So, it won't be that bright while using under sunlight or bright artificial lights.

On top of this, it comes with a 60Hz refresh rate and 5 ms response rate. But, these are claimed by Hori themselves. However, we have noticed that the response rate is not that good. Sometimes it gets as high as about 20 ms. Remember, it is always better to go for a monitor with lower response time and a higher refresh rate. Plus, there are no Free Synch/G-Synch feature with this portable monitor from Hori.
With these specifications, the monitor produces very poor image and video quality. However, if you look from a good distance then the viewing experience improves a lot. But, you will likely use your monitor from a close distance. If we are honest with you, image quality-wise, it is not a great option for playing high-end video games. But for casual gaming and video watching it can be alright.
Connectivity:

If this portable monitor has anything better, then it would be the various options of connectivity ports. First off, you will get 2 HDMI port to connect it to the video source. Aside from that, you are also getting 2 headphone jacks. That means you can plug in two headphones at once to enjoy the audio. It is a unique feature and will come in handy if you play a multiplayer game with your friend or watch a movie with another friend.
Usage and compatibility:
Now, why'd you use the Hori portable gaming monitor? The answer is pretty straightforward. Yes, this is a monitor which you can take with you anywhere you want. So, you can use it to game on it or watch movies. It is compatible with any other devices with HDMI connectivity. So, you can use it with your Xbox, PlayStation, PC, Nintendo Switch and even other smart devices which can output videos to an external monitor via HDMI.
Other Features:
Another major feature of this portable monitor is that it comes with 2 built-in speakers. But, the quality of those speakers is terrible. These can produce loud sound yet the quality is not up to the mark. However, we have to give it to Hori for incorporating a pair of built-in speakers in a portable monitor. So that you can use it without any external speakers. You can also transfer the sound to any external speakers via the audio jacks.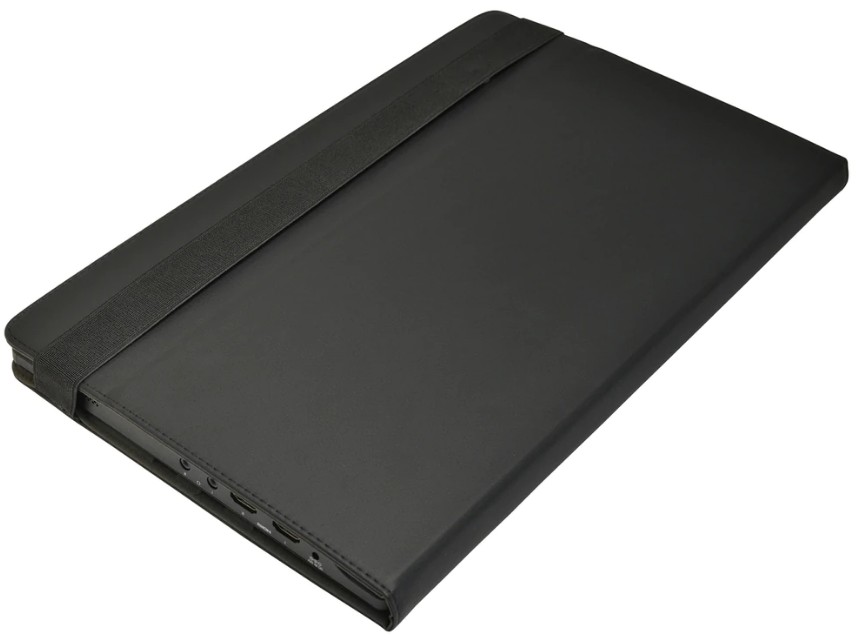 On the left side, you will get 6 buttons. The lowermost one is the power button. And, the topmost one is the HDMI input toggle button. Then you have the volume rockers, Enter and Menu buttons. However, we have noticed something unusual with the volume rockers. The volume down button is on top of the volume up button. Weird, isn't it? Plus, you have to hold down the power button for more than a couple of seconds to switch it off.
The OSD menu is pretty streamlined. You can access it via the OSD menu button. There are 4 brightness pretests which are Game, Movie, Text, and Standard. If you don't want to tweak the settings, you can take advantage of these preset settings. Added to that there are also a few presets for the audio quality as well.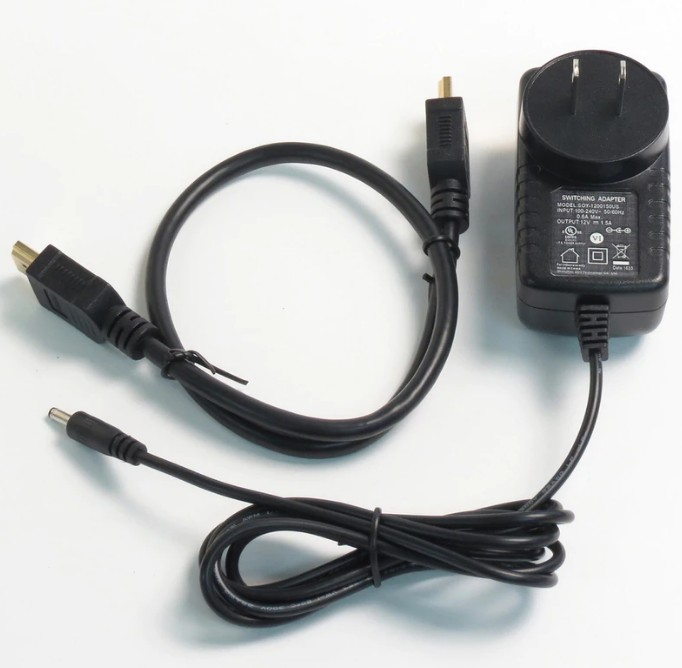 The Hori portable gaming monitor comes with a 1.6ft HDMI cable. They have provided a short cable thinking that it might be easy to manage that cable. Yes, it is a great idea. But, in most cases, you might need a longer HDMI cable. However, you can buy one if needed. This portable monitor comes with an AC adapter for powering it up. This is a tad bit bigger for a portable monitor. Otherwise, everything is good.
We Liked:
Build quality s great
Very lightweight
Can be carried around in your backpack with ease
Two HDMI ports and two headphone jacks
A free HDMI cable and a free protective case
Anti-glare display panel
We Disliked:
Screen resolution could be at least 1080p
The quality of the speakers are not that great
Not great to look at from different skewed angles
Peak brightness is not great for using under bright light
Contrast ratio is not that great
Does not produce accurate colors and looks flushed out at times
The price is a bit higher compared to its specs and features
Our Thoughts:
Hori Portable gaming monitor is nowhere near the perfect monitor. But, if you are looking for a portable monitor then there are not that much of an option out there. Like all the other gadgets, it has its pros and the cons as well. But, it is also true that this one has some unique features which are rare to find on its competitors.
So, is it worth it? Actually, it depends. If you have the budget and in dire need of a portable monitor, then you can get this one. Hoverer, don't expect that it will be a great monitor to play high-end games. And, using it outdoor might also not be a great idea. But the main purpose of this monitor is not to have the best features and specs, rather, to be a portable monitor. In that sense, this is a great option, nevertheless.
But, if you are in a tight budget or just want a better deal, there are some attractive options out there. For instance, The Lepow 15.6-inch portable monitor or the AOC 15.6 inch portable monitor. So, the final decision is up to you.