HP has been releasing a bunch of new affordable yet feature-rich monitors lately. In a way, HP is now dominating the market of budget-friendly monitors. The HP VH240a FHD monitor is one of the monitors from their budget monitor line up.
But, is it worth it? In this post, we will try to answer that by providing a comprehensive review of this popular monitor. By the time, you have read this post, you will come to know if you should buy this one or not.
So, let's begin, then…
Design and Outlook:
On the first look, you will notice the bezel-less design of this monitor. Nowadays, almost all the monitor manufacturers are moving on to the bezel-less/edgeless design. Although, in truth, there are bezels on the monitor. But this is very slight that it is entirely negligible.
Now, the main display panel is 23.8 inches diagonally. So, it is almost a 24 inch monitor which can be a great upgrade if you are using a 19 inch or 21inch monitor. This one comes in the standard black color. In the front, you are getting a matte black panel which comes with anti-glare feature. And, the backside of the monitor is also black.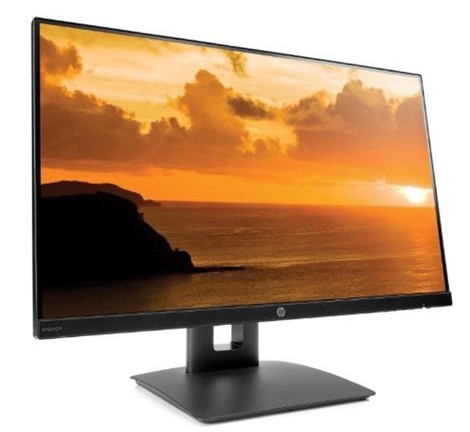 There you will find the display connectors and so on. The power and OSD settings buttons are located on the lower-right side of the panel. You can easily access those whenever you need to change any settings on the monitor. Plus, there are two speakers on both sides of the monitor. They are craftily hidden from the view. That gives the monitor a sleek look from any side.
On top of all this, this monitor is so slim even though it has two built-in speakers. The stand also looks solid yet elegant. We must admit that HP has done a great job on the design of this monitor. You will really like it if you are into simple and minimalistic designs.
Performance:
In terms of performance, the HP VH240a 23.8 inch monitor is great. This monitor has 60 Hz of refresh rate. So, for office work, watching movies and browsing the internet, it can provide crisp video output. Also, if you want to use this for gaming purpose, then it will do great. However, it would be better if this one had a G-Sync/Free Sync feature. But at this price range, it is not a deal-breaker at all.
HP says that the monitor has 5 ms of response rate. However, typically, the response rate might vary depending on the situation. It can go from 5 to 14 ms. But that doesn't mean that it performs badly. Matter of fact, the low response rate makes it perfect for gaming. Due to this, you won't notice any blurring or ghosting while playing a game.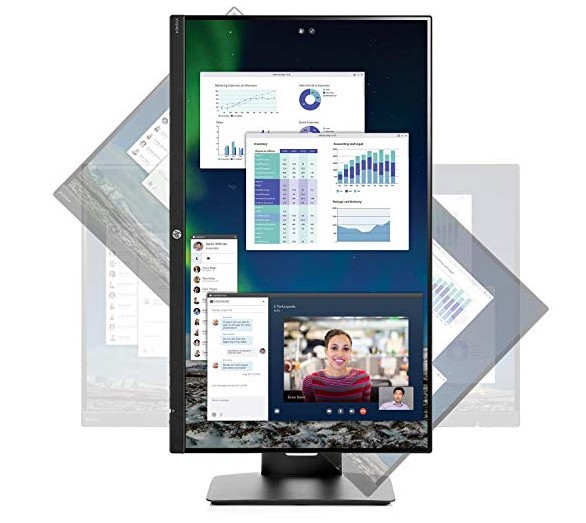 The HP VH240a monitor produces great accurate colors. So, for office works it can be a perfect monitor. Even though, it is a cheap monitor it comes with 250 nits of peak brightness. And, if you tweak with the settings for a bit, you will get a more precise color spectrum.
It also comes with 1080p resolution and the aspect ratio is 16:9. So, it will be compatible with all modern games. And, we can tell you that 1080p resolution on a 23.8 inches monitor is just perfect. Also, the monitor doesn't get heat up usually. Overall, the performance of this monitor is top-notch.
Image and video quality:
If a monitor doesn't produce high-quality images and videos, then you should not buy it. But the HP VH240a monitor is the exact opposite of this. It is an IPS panel which offers 178-degree viewing angle. That means, that the image quality won't lose any color or accuracy if you look at the monitor from different angles.
However, if you use it for your office work, you would look at the monitor from the center almost on all occasions. But, the 178-degree viewing angle will come in handy if you want to demonstrate something on the monitor to any other person (for instance your colleague). Or else, you can take advantage of this feature while you are watching movies with your friends and family.
Out of the box, the monitor delivers great image quality. But that doesn't mean that you can't improve on it. With the help of the settings buttons, you can tweak the color, brightness, contrast, sharpness and more to your liking. It is very easy to do. All in all, the image and video quality is amazing of this HP 23.8 FHD monitor.
Connectivity:
You should always go for a monitor which comes with multiple connectivity ports. Luckily, the HP VH240a monitor has an HDMI and a VGA port on the back. Besides that, you will also get an audio jack port for the built-in speakers to connect to external speakers. Yes, there are not USB pass-through port or Display port. But in this price range, these are very rare to have.
Features:
The HP VH240a monitor comes with numerous beneficial features. We have already talked about some of them throughout the post. However, we will talk about more features in this section. First off, the monitor comes with HDCP support. And, it comes with a pair of built-in speakers (each 2W). It comes with 2 million pixels in a 1080p resolution display.
So the pixel per density would be 92 PPI for this monitor. The contrast ratio of the monitor is 1000:1. And it has 72% sRGB coverage. It also comes with a lot of environment-friendly features. For instance, you will get an arsenic-free glass, mercury-free backlighting, and low voltage halogen design.
If you want an energy effecting monitor, then this monitor can be a great choice. Because it needs only 27 watts to operate. Added to that, it can automatically save energy while not in use. We really liked this feature.
Now, let's talk about the stand. The stand of this monitor is highly adjustable. You can tilt it to front and back (-5 to +30 degrees). You can also adjust the height of the monitor. That way, you won't need any additional monitor riser.
Added to that, this also supports pivot adjustments. You can rotate the monitor vertically to 90-degrees. This is a very rare feature in a cheap monitor like this. And, you know that it can be pretty helpful for programmers or web developers.
Out of the box, you don't need any screwdrivers or tools to attach the monitor to its stand. Everything is intuitively designed. Added to this, the HP VH240a monitor also supports VESA mounting. Yes, you can mount this monitor to the wall if you want to. However, you will need an additional wall mount to do that.
Specifications:
Here are the key specs of the HP VH240a monitor at a glance.
Screen Size:8 inches diagonal
Display Panel Type: IPS LED Backlighting
Screen Resolution: Full HD (FHD); 1920p×1080p
Aspect Ratio: 16:9
Peak Brightness: 250 nit
Response Rate: 5 ms (varies from 5 ms to 14 ms)
Refresh Rate: 60Hz
Connectivity: 1 HDMI, 1 VGA
Contrast Ratio: 10 million:1 (Dynamic); 1000:1 (Static)
VESA mount: Supported (100×100 mm)
Built-in speakers: 2
We liked:
Very reasonable price compared to the features and specs
The IPS panel offers wide viewing angles and accurate colors
The stand is highly adjustable
Wall mount supported
Energy-efficient and slim design
The bezel-less design makes it suitable for a multi-monitor setup
We Disliked:
Built-in speakers are very weak
No support for either AMD Free Sync or NVidia G-Sync
Could come with a DisplayPort
Summing things up:
Nowadays, there are various budget-friendly monitors available. However, most of those come with a few common features. But, the HP VH240a monitor comes with some useful yet unique features. In fact, some of those are so advanced that we were really surprised to see those features on a monitor this cheap.
Yes, this monitor might be lacking a USB Passthrough port or the FreeSync/G-Sync features. The speakers might be weak. But typically, you will use your PCs audio output port for the sound. Thus, these are not major deal-breakers.
This monitor delivers crisp image quality. Plus, the design is also very attractive. If you are looking for an affordable monitor for your office work or casual gaming purpose then this could be an excellent choice. Plus, if you want to build a multi-monitor set up within a budget, then you can get the HP 23.8-inch FHD IPS monitor without a second guess.